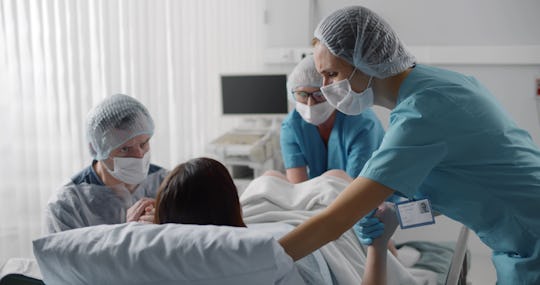 Shutterstock
11 Things Butt Contractions *Actually* Feel Like
There's no holding back — literally.
Why don't more people talk about butt contractions? If you've never experienced labor, this question may sound nonsensical to you. If you have gone through labor, though, there's a good chance you're nodding in agreement. As a baby descends during labor, the combination of their head putting pressure on your other organs (chiefly your bowels) and the ever-strengthening contractions create a sensation that I was not warned of or prepared for: a butt contraction. But what do butt contractions actually feel like? It's difficult to describe.
The main sensation (and there are a lot when it comes to labor and delivery) is pressure. Now, nine times out of 10 I'll admit that whenever someone says, "You're going to feel pressure," that's just doctor-speak for, "This is really going to hurt but I don't want to freak you out so I'm going to tell you that you're about to feel pressure." In this case, though, pressure is accurate. But I must warn you: a baby head smooshing down on your pooper from the inside creates so much pressure that it blurs the line between "pressure" and "pain."
Butt contractions were such a huge aspect of both my labors that I'm floored more women don't talk about it and, more importantly, aren't warned about it by health care providers. When I was in labor with my first, I mentioned it to my OB-GYN who said, totally off-handedly, "That's actually a good thing, because it means your baby is descending." I stared at her, dumbfounded, because nothing about this felt like "a good thing."
And so here I stand, breaking the silence about pregnant women's asses. It is my calling. And since no one else, it seems, is willing to tell you what your butt is in for, allow me to share what butt contractions feel like: