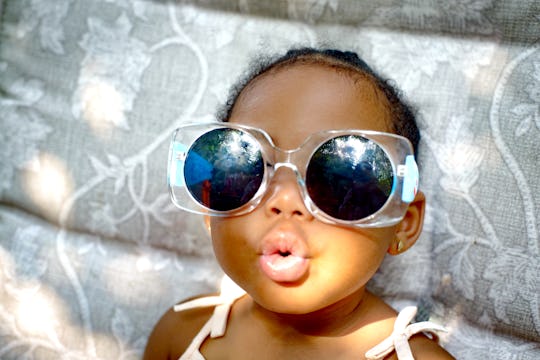 Sue Barr/Getty
27 Cheugy Baby Names Because You're Leaning Into It
Just add inspirational word art.
You've probably heard the term floating out in the ether: cheugy. What is it? Various thinkpieces, from the New York Times to Vice, broadly define it as "you know it when you see it." Turns out they see us, my Millennial sisters. Our side-parts, our skinny jeans: it's all cheugy AF. ("AF"? Also cheugy.) Some would advise you to ditch these outdated trends. But I say, if you're cheugy, lean in with these cheugy baby names. (Because you just know that one minute after the last Millennial stops using the laugh/cry emoji everything cheugy will be cool again.)
The term gained popularity on the one place the youths knew we wouldn't look: TikTok (what even is a TikTok) and is defined by Urban Dictionary as "the opposite of trendy." Personally, I define it as "a mean teen who thinks she invented the middle-part (you did not, Madisyn) realizing Millennials were no longer hurt when you called them 'basic' and needing a new term to make us feel old and insecure."
Seriously: cheugy is Ugg boots and Juicy Couture. Word art in your living room and getting obsessively into #SweaterWeather. IT'S THE SAME THING AS BASIC!
But, since we have open minds and a sense of humor about our own trends, here are some top contenders for cheugy baby names, because I say cheugs should own their cheuginess!
And so: *raises rosé* here's to you, you cheugy betches! #winning
And remember, Gen Z, we'll remember every. damn. thing. you made fun of us for when these trends eventually make a comeback and you jump on them. Like our beachy waves and the boots we wear over our jeans, our memories are long