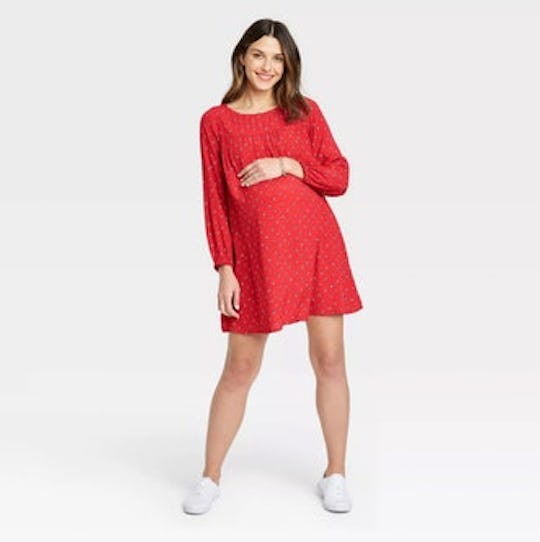 Target
These Fall Maternity Dresses Are So Cute & Comfortable
Just because you're pregnant doesn't mean you can't find a great dress for autumn.
There are a lot of difficult things about being pregnant, but personally, I've found that one of the most frustrating things is trying to find great maternity clothes, like fall maternity dresses.
I'm currently pregnant with my second child, and I've found that throughout both of my pregnancies, getting dressed is exhausting. It can be hard to find cute maternity clothes that don't cost an arm and a leg, and then feeling comfortable in something? Even worse. That's why my go-to in both of my pregnancies has been maternity dresses. Comfortable, never restricting, easy to grow with, and cute, maternity dresses are just better than anything else. And you don't have to give them up for chilly weather: there are lots of cute fall maternity dresses that you should consider purchasing.
While on the hunt for the perfect fall maternity dress, look for something that allows for easy layering (you know, for those days where you're cold in the morning but sweating by lunchtime), and something versatile. The ideal dress will take you through fall and into winter, and can be worn dressed up or down. Here are some of our favorites.
We only include products that have been independently selected by Romper's editorial team. However, we may receive a portion of sales if you purchase a product through a link in this article.
These maternity dresses should get you through fall and maybe even winter, and they'll also be basics you can build around while you're pregnant and during the postpartum period. Be sure to hang on to them if you think you might get pregnant again in the future — they're pretty timeless!