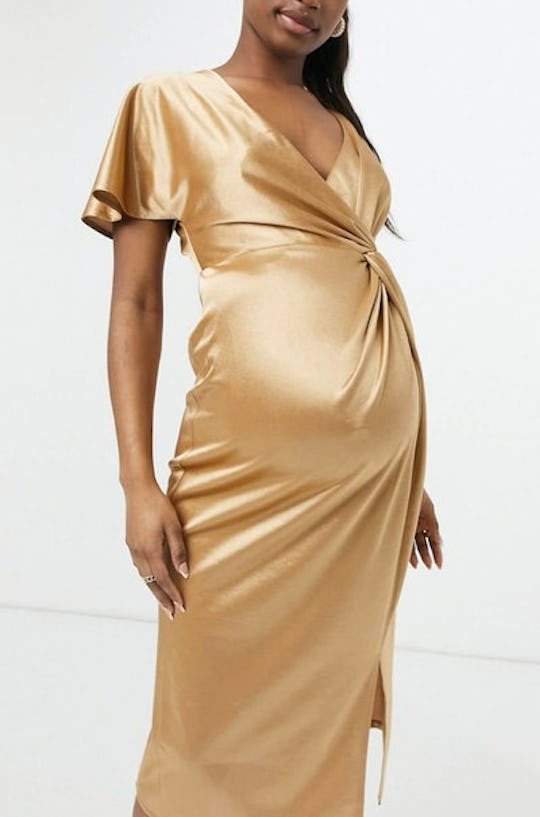 ASOS
Get Your Sparkle On In These Gold & Glittery Maternity Dresses
Because it's time to add some glitz to your wardrobe.
Pregnancy is a time when you can get really creative with color. But more often than not, expecting mamas stick to solids, (and usually dark ones). While black might always be chic, that doesn't mean that you should always walk around wearing such a somber shade. If you're looking to add some shimmer to your motherhood style, you might want to skip the silver and head straight for these gold maternity dresses that are 14k cool.
There are so many ways in which you can wear a gold maternity dress. You might opt for a shimmery one that's full of sparkle, or a gold that's reminiscent of a sunset and has more muted tones. Your gold maternity dress might only have tinted accents, so you don't feel like a sun walking into the room. But gold is definitely a color that commands attention, so think about how you want to wear it. Is it for your baby shower where you'll be the center of attention, or is it for a wedding or a formal event? You might be looking at gold maternity dresses to ring in the New Year, or just want something you can wear every day, because gosh darn it, you're already glowing, and a gold dress will complement your skin tone.
So if you're in the mood for a fun new frock, check out these gold maternity dresses that are a solid choice — and solid gold, too.
We only include products that have been independently selected by Romper's editorial team. However, we may receive a portion of sales if you purchase a product through a link in this article.
It can be easy to get into a rut when it comes to your maternity clothing. But even if gold isn't a color that you've worn frequently in the past, now is the time to embrace it. That way, your dress can glow just as much as you do.