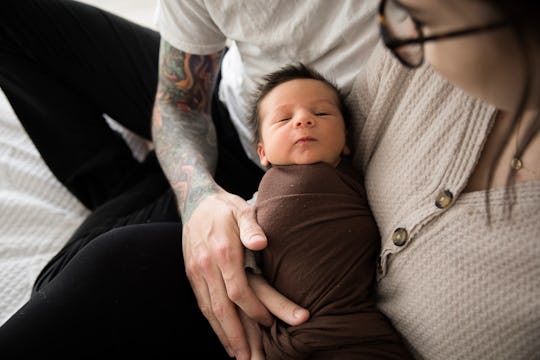 Cavan Images/Getty Images
40 Goth Baby Names For Only The Most Metal Parents
Dark, mysterious, wistful — these names have it all.
Maybe you're an elder emo who has favored all-black ensembles since middle school. Maybe you fell in love with dark romances and Victorian tragedies as an adult and the goth aesthetic just sort of comes with it (I mean, who doesn't love Wednesday Addams right now?). If horror movies and heavy metal are just part of life for you, you might be considering goth baby names for your little one, and honestly, you should. No one will ever mess with your kid if their name is Azrael.
There are so many interests and hobbies that fall under the "goth" umbrella. You could be a total punk who feels most like yourself at a live show, or a Victorian goth who loves incorporating corsets, puff sleeves, and big bows into every outfit. You could just be a regular parent who loves rock or scary movies or stuff that's kinda sorta witchy. In any case, don't let anyone make you feel weird about shopping for the perfect goth baby name for your little devil.
Here, you'll find baby names that capture the mystery, spookiness, darkness, and dreaminess from all aspects of goth culture. The one thing they all have in common: they're anything but average.
Whether you want a subtle nod to your goth roots or want to go full-on baby in a black sleeper, there is a goth baby name for your family here.