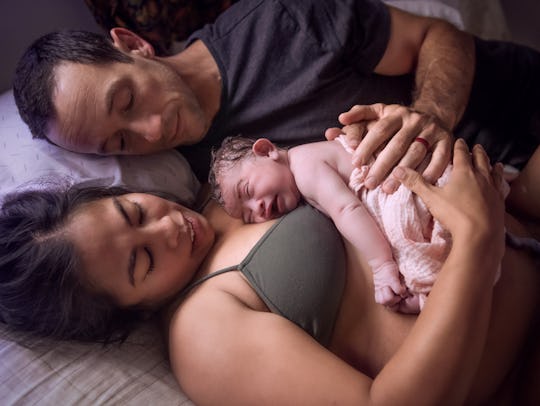 Layland Masuda/Moment/Getty Images
10 Home Birth Videos That Are Real, Raw, & Empowering
If you're wondering where to put your birth tub, watch these.
If you're thinking about your birth plan and the idea of delivering at home sounds right for you, that opens up a whole slew of options for you to consider. Watching home birth videos and vlogs can help you decide exactly how you want your labor and delivery to go, and answer questions you didn't even know you had.
Do you want to give birth in bed, in your bathtub, or in an inflatable birth tub? Do you want your older children there for some or all of the action? What about the rest of your space — should it be dimly lit with twinkly lights and music going, or totally normal, like any other day at home? Seeing how other parents set up their homes for their own births can help you decide exactly what you want too. You'll also see how other couples manage contraction pain together, doing massage, hopping in the shower, or taking walks (before things get too intense, of course).
And then there's the not-so-fun parts of planning a home birth, like making a backup plan in case you do require hospital care at some point. Checking out some home birth videos in which families go to the hospital can help you understand what that process looks like, and how those parents handle the change to their plans. No matter what, screening some of these vlogs will give you a ton of information about home births, and empower you to make the choices that feel best for you.
However you envision your labor and delivery happening, and whether you're expecting one baby or multiples, watching other parents' home birth vlogs can show you a bit more about what to expect.