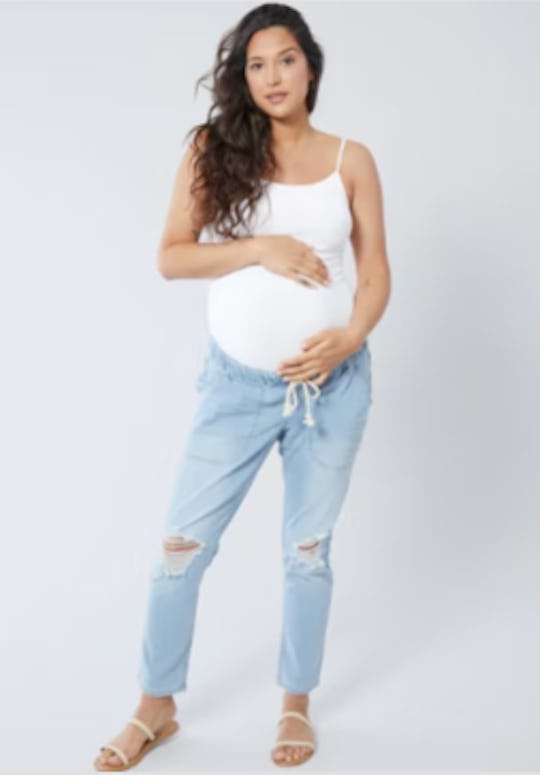 Ingrid & Isabel
Where To Find The Best Petite Maternity Clothes
If you're a short-statured person, buying clothes in general can be tricky. You might keep a tailor on call to cuff your pants or even dabble in the children's section from time to time for shoes or shirts. But once a petite person becomes pregnant, shopping can get extra frustrating. Suddenly you need more space in the abdomen, but still require short lengths in pants and sleeves. It can be a maddening experience trying to make these two measurements meet in the middle, so to speak. So where can you buy petite maternity clothes?
To the internet. Online, there are a few retailers that haven't forgotten smaller people. These places understand that individuals of all sizes have babies and have accommodated them with a variety of sizes. For shorter individuals, traditional maternity wear may end up looking far too bulky as fabric folds over on their small frames. These brands have adjusted their cuts to fit petite bodies, offering everything from dresses to jeans, underwear to blouses.
No one wants to spend their pregnancy feeling frumpy. The good news is where to buy petite maternity clothes has become a much easier search. And you can get your shopping cart filled with petite maternity clothes by starting with this list of thoughtful brands.
We only include products that have been independently selected by Romper's editorial team. However, we may receive a portion of sales if you purchase a product through a link in this article.
Feel your best while wearing the best fit your entire pregnancy with these petite-friendly brands.
This article was originally published on