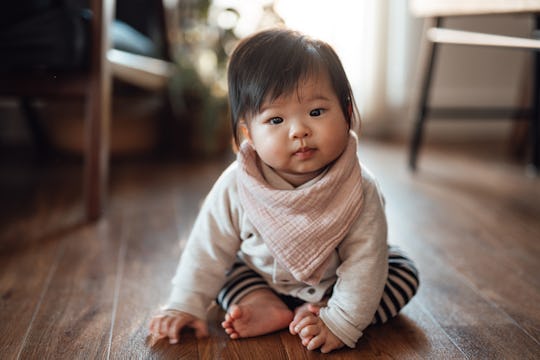 Oscar Wong/Moment/Getty Images
These 30 Names Are Just Right For Your Taurus Baby Girl
If you're looking for an astrologically appropriate name.
Parents looking to name their springtime baby girls are in luck — those born under the Taurus sign are known for being reliable, stable, and honest. Taurus baby girls will grow into women that are hard workers who enjoy success and the fruits of their labor, which means your little bull will need an appropriate Taurus girl name to match her personality.
Much of a Taurus' inherent traits come from the fact that Taurus is a "fixed" modality, meaning they are born solidly in the middle of a season rather than in a time of transition. This gives Taurus girls their dependable nature.
The ruling planet of the house of Taurus is Venus — the brightest object in the night sky. Your little Taurus will shine brightly, too. Baby girls born under this sign are typically loving, comforting children who are a delight to be around. Known to enjoy taking their time in life rather than rush through things, she will be a great travel companion who enjoys the journey as much as the destination.
Celebs who share the same astrological sign as your baby girl include Renee Zellweger, Rosario Dawson, and Jessica Alba. She's among stellar company!
This list of Taurus girl names highlights the many positive traits of babies born between April 20 and May 20.
There is no shortage of creative and beautiful names to honor the unique qualities of Taurus baby girls. Whether a more traditional floral name to denote springtime, or a name that draws on the strong, steady nature of the bull and the earth, you can't go wrong with choosing a name tied to your baby's Taurus roots.
This article was originally published on