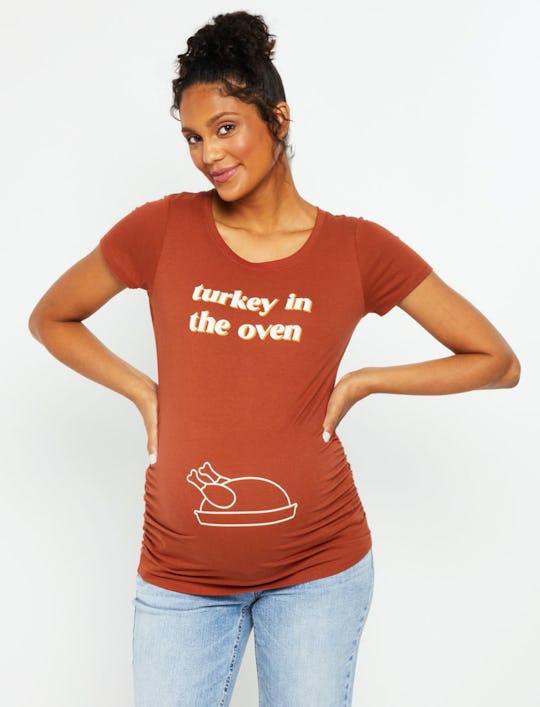 Motherhood
15 Cute Thanksgiving Maternity Shirts To Announce & Embrace Your Pregnancy
Because it's not just a turkey that's in the oven this year.
It's the time of year for gratitude and gravy. For eating turkey and talking with loved ones around a bountiful table. Other holidays might feel chaotic, but there's something about Thanksgiving that forces you to slow down. Maybe it's because the food takes hours to cook, so there's plenty of time to reflect on all the reasons there are to celebrate this season. And if you're expecting, you'll need to dress the part by wearing these cute Thanksgiving maternity shirts that you can use to embrace your pregnancy — even if no one knows yet.
And that's the beauty of this holiday. If you're ready to reveal why you've been wearing bulky sweaters and napping a lot more lately, Thanksgiving is the perfect time to announce your pregnancy. Think about it: a large portion (if not all) of your family will be gathered around, everyone will already be in a happy mood (because that's just what Thanksgiving does to people), you'll all be eating (which also puts everyone in a good mood), and you're bound to get lots of screaming and tears of joy when you let everyone know that you're expecting.
So celebrate what you're most thankful for (your pregnancy and your baby) with these Thanksgiving maternity shirts that are as adorable as that bun you've got in the oven.
We only include products that have been independently selected by Romper's editorial team. However, we may receive a portion of sales if you purchase a product through a link in this article.
Whether you're wearing a turkey, a pumpkin, or a pilgrim on the front of your shirt, these Thanksgiving maternity shirts are a whimsical and wonderful way to share your good news — and your gratitude for all the good things that are to come.