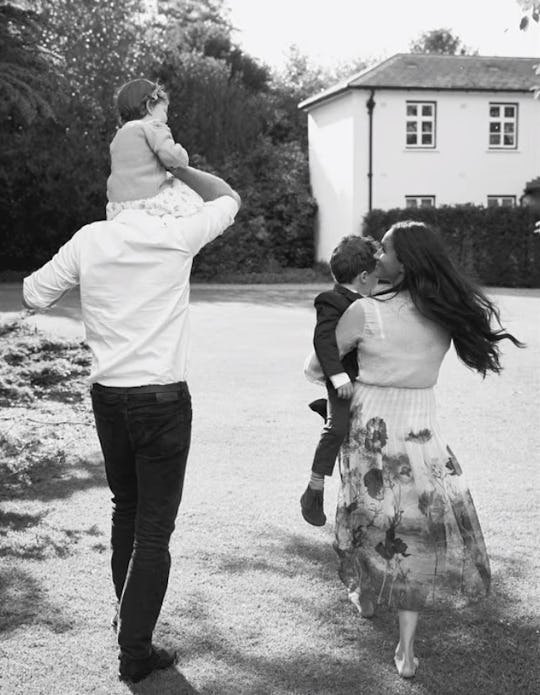 Netflix
Prince Harry Says 3-Year-Old Archie Needs "Space" From His Little Sister Lilibet
Turns out, Lilibet "Lili" Diana is "obsessed" with her big brother.
Prince Harry is learning a lot about his own relationship with his older brother by watching his 3-year-old son, Archie, and 1-year-old daughter, Lilibet, interact. In a recent interview with ITV ahead of the release of his new memoir, Spare, the Duke of Sussex offered a little behind-the-scenes look at how Archie deals with little sister Lilibet. And apparently Archie sometimes needs a little "space" from her.
The dad of two spoke to ITV's Tom Bradby about the similarities between the relationship between his two children and his own relationship with his older brother, Prince William. "The gap between me and William is very similar to Archie and Lili," he told Bradby, per The Express. "And to see Lili obsessed with Archie and Archie like, 'No no, Lili, I need my space, I need my space,' now I get it."
As the younger brother in that situation who was also two years younger, Harry remembered how it felt to follow his brother around, but now he's thinking about "how irritating the younger sibling can be to the older sibling."
He added, "In the moment, at the time, I didn't really grasp that and really realize it."
Prince Harry followed Prince William.Tim Graham/Tim Graham Photo Library/Getty Images
Prince Harry is learning from Archie and Lili.Netflix
William is clearly top of mind for Harry right now, especially with Spare coming out on Jan. 10 and much of the memoir seemingly focused on his complicated relationship with the man he calls his "beloved brother and my archnemesis" in an excerpt. Spare reportedly details some significant fights between the two, particularly in recent years since Harry married Meghan Markle in 2018. The Duke of Sussex alleged in Spare that his brother once physically attacked him during an argument over his marriage that left him with visible bruising.
While the pair of brothers don't appear to be on speaking terms at the moment, they obviously have a shared history that bonds them. They lost their mother, Princess Diana, at the young ages of 15 and 12 years old, dealt with the paparazzi together, stood as best men at each other's weddings, and watched each other become fathers. And of course, they grew up together. Just as Archie and Lilibet "Lili" Diana are growing up together in Montecito, California. Archie desperately trying to find a bit of space while his sister follows him around in total adoration. Sounds about right.