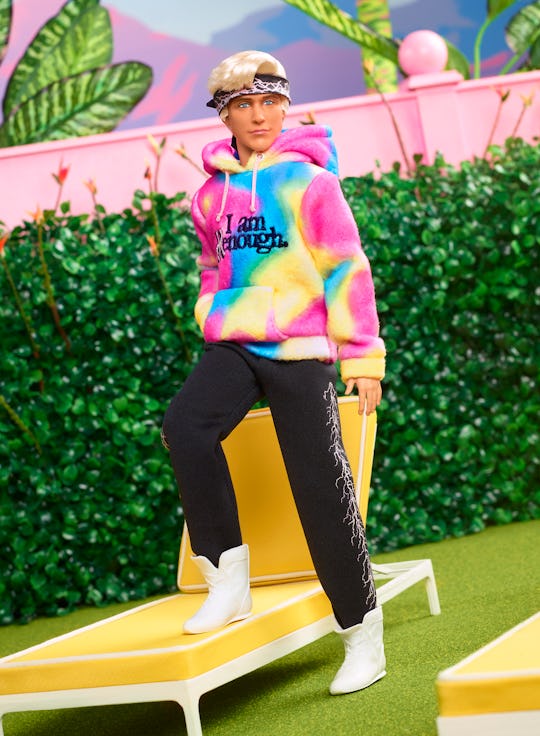 Mattel
Barbie Just Debuted A New Kenough Doll With The Iconic Tie Dye Hoodie & Everything
The doll was even made to look just like Ryan Gosling.
For anyone who is just trying to find their place in the world, trying to feel like they're enough exactly as they are, Barbie has launched a new doll specifically for you. A Barbie that is not Ken, but just Kenough. And we are here for it.
Fans of Greta Gerwig's massively popular Barbie movie might remember that Ken (Ryan Gosling) started out as "Just Ken" at the outset of the movie. His job was beach, just beach, and he was desperately in love with Stereotypical Barbie (Margot Robbie). Ken was trying to find himself and his purpose, which had him eventually getting a bit, shall we say, extreme with the other Kens. Taking over Barbie Land and getting way too into cowboy culture. It was a journey that led him to his own a-ha moment. That he could be "Kenough," exactly as he was.
Now Mattel is honoring him in all his Kenough glory with a Barbie doll made in his likeness. Because his Kensformation, if you want to call it that, was actually sort of beautiful. As was his personalized tie-dyed hoodie reading "I am Kenough," track pants, high top sneakers, and headband featuring a lightning design. This doll was even made in Gosling's likeness, making him something of a one-of-a-kind collector's item from Mattel Creations.
These new Kenough dolls are sold by Mattel Creations as a made-to-order item for $50 each, available for pre-order now until Nov. 13, with shipping set to happen by the end of October 2024.
Mattel has released several new Barbies since the Barbie movie came out and sort of took over the summer of 2023. Legendary singer Stevie Nicks got her own Barbie for the first time ever, and the singer said the doll wearing her most iconic looks "absolutely has my whole heart." Then there's Ted Lasso, who got his own doll along with Rebecca Welton and Keeley Jones to honor the wildly popular Apple TV+ series. And if there's any television character who is more of a Ken than Ted Lasso, please point him out to me.
There is something kind of pure about Ken getting a Kenough doll after his emotional journey of self-exploration. A doll who gets to walk around in comfortable sweat pants with a sweet lightning bolt down the side of them. Who only needs to look down at his tie dyed hoodie for a reminder that he is, indeed, Kenough.