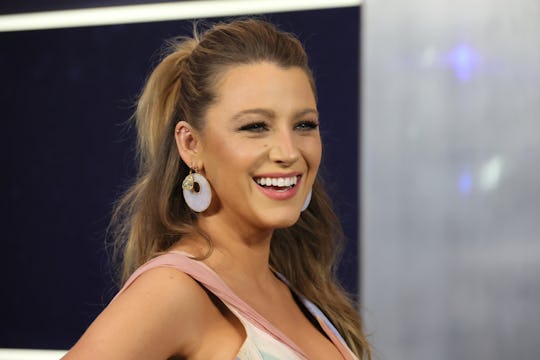 Dia Dipasupil/FilmMagic/Getty Images
Blake Lively Shared A Little Update About How She's Doing As A Mom Of 4
Blake Lively and Ryan Reynolds have a busy household on their hands between running their own thriving careers and raising four children, including a new baby, together. How does Lively manage it all as a mom of four? Well, she gave a bit of a clue in a recent Instagram Story, and it sounds like she's managing the way all moms manage. She's exhausted from putting everyone else first.
Lively and Reynolds welcomed their fourth child some time in early February, making 8-year-old daughter James, 6-year-old daughter Inez, and 3-year-old daughter Betty big sisters. While the couple have been cagey about sharing much information on their newest addition like their birth date, name, or even the sex of the baby, they've both offered a few tidbits here and there about what their lives look like now. For instance, Reynolds said recently that while "everybody's doing great. Everybody's actually doing fantastic," he did go on to add that "it's a zoo over here."
For her part, Lively didn't call life with her kids "a zoo," but she did offer insight into what her days look like in an Instagram Story sharing her new Betty Buzz and Betty Booze products. "These are recipes I've been making for loved ones for years," she captioned one photo. "But I have 4 kids now. And I'm tired. So here they are. In a can. Enjoy. Responsibly...ish."
Lively went on to share two products, one with alcohol and one without, as examples of what "hosts do."
"We make something for everyone," she explained in her post. "And not usually ourselves. Wait. I'm describing moms now," which resonated with several fellow moms on Instagram. "I'm going to start telling people I host two kids every day and night," one parent commented, while another added, "not all heroes wear capes."
The It Ends With Us star has been adjusting to her life as a busy mom of four putting everyone else first with her trademark blend of humor and patience. Back in April, she posted that she was "just so proud I left the house" for a charity gala for Barnard College, and we can only hope she did manage to put herself first that night. Because, like all moms, sometimes she needs to make something for herself. Like a cocktail or a mocktail, totally up to her.