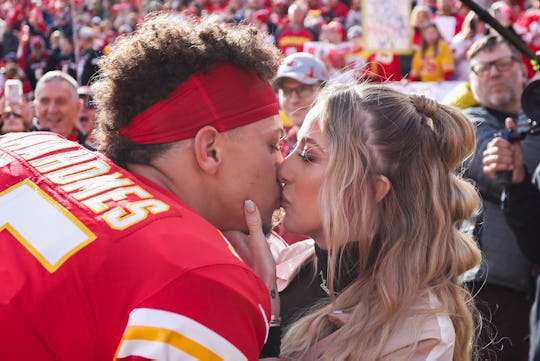 Icon Sportswire/Icon Sportswire/Getty Images
Patrick Mahomes' Wife Brittany & Daughter Sterling Went ALL Out For Their Super Bowl Looks
That tiny leather jacket!
Patrick Mahomes may have the Chiefs cheerleaders on the sidelines and his family rooting for him in the stands, but his little girl is clearly his #1 fan. As Super Bowl LVII kicked off on Feb. 12 in Arizona, Mahomes' wife Brittany shared a series of adorable photos of their 23-month-old daughter, Sterling, cheering on the Kansas City Chiefs quarterback. In fact, she had several outfits to show off her support for her dad.
On her Instagram Story, Brittany Mahomes, who also shares 2-month-old son Patrick "Bronze" with the NFL pro, shared a photo of little Sterling is sporting red and white checkered pants and a t-shirt with "MVPa" written across the front.
Sterling has prepping for the moment for days now, it seems. Well, her parents have... Speaking with USA Today on Feb. 11 from Arizona, Brittany told the outlet that the week leading up to the big game has been a bit "stressful," with having to manage two little ones under 2. "The biggest challenge was packing all their stuff and making sure we had everything we needed for them for a week," the mom of two said. "Two kids is a lot of luggage and so stressful, making sure you don't forget anything."
Brittany added that she's not juggling all of it alone. "I do have help! And you should never feel any shame in having help," she told the outlet. "I'm so grateful to have a team around me that is all hands on deck to help every step of the way, I could not do this without them."
Well, all the help and hard work paid off. The mother-daughter duo looked absolutely adorable in their Super Bowl looks on Sunday. In another photo on her Instagram Story, Brittany posed in a red two-piece outfit and sunglasses, with Sterling on her hip. "My baby," she captioned the sweet photo.
In another, Sterling is rocking a tiny leather jacket with her dad's jersey number — #15 — on the back. Her little bellbottom jeans also featured a heart patch with #15.
Mahomes has a whole team of supporters in his corner as his team faces off against the Philadelphia Eagles at Super Bowl LVII. And they're certainly dressed for the part.