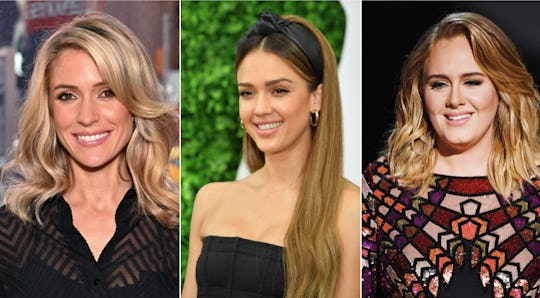 Dia Dipasupil/Getty Images Entertainment/Getty Images/ Pascal Le Segretain/Getty Images Entertainment/Getty Images/ Kevin Winter/Getty Images Entertainment/Getty Images
25 Celeb Moms Who've Been Candid About Their Breastfeeding Struggles
"It's f*king ridiculous, and all those people who put pressure on us, you can go f*k yourselves, alright? Because it's hard." Thank you, Adele.
by Brianna Wiest and Casey Suglia
Breastfeeding is hard. Like, really hard. If you don't believe that fact, just ask anyone who's struggled to do it. Or look to these celebrity moms who've struggled with breastfeeding over the years and have been refreshingly candid about their less-than-perfect journeys with their fans.
Mothers struggle with breastfeeding, or choose not to breastfeed, for a variety of reasons. Though many more certainly exist, such reasons include issues with milk supply or latching, concerns surrounding a mother's medication needs, cultural norms or lack of familial or workplace support, as well as unsupportive hospitals or practitioners that do not properly or fully help or teach new mothers how to nurse, according to the U.S. Centers for Disease Control and Prevention (CDC).
But regardless of why, the reality is that a lot of mothers struggle with breastfeeding. In fact, data from the CDC shows that 60% of mothers do not breastfeed for as long as they'd like to. Every experience is different and it's not always as easy or straightforward as it's often made out to be. What it comes down to is that breastfeeding has to be the right choice for both mother and child, and if it isn't your path, that's nothing to be ashamed about. Take a cue from these celebs, who certainly aren't apologizing.
This article was originally published on