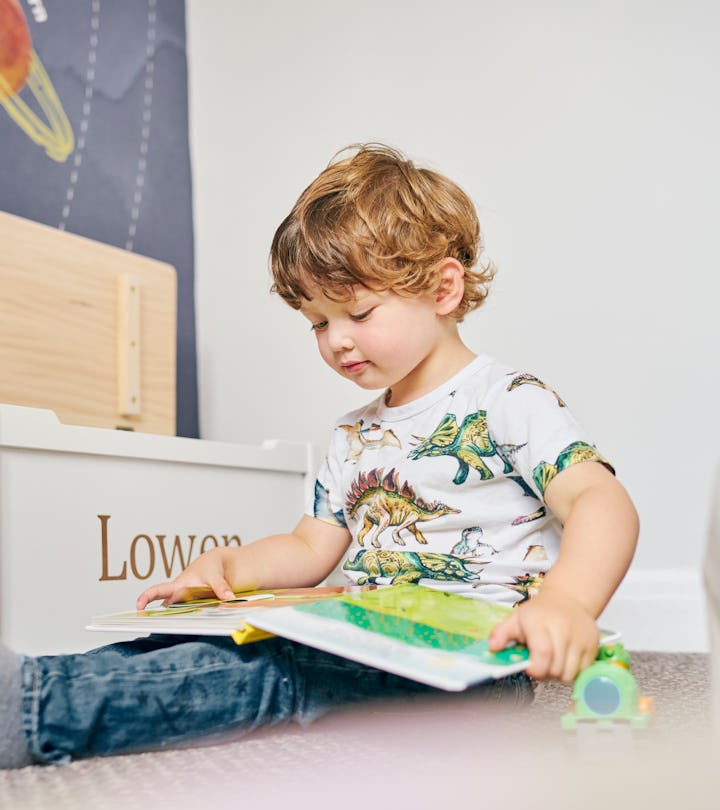 GS Visuals/Cultura/Getty Images
20 Children's Books For Your Dino-Loving Kid
From facts to fun stories, these dinosaur-themed books are perfect for your prehistoric-loving kid.
Just about every kid I've ever known has gone through a dinosaur phase. The mystique of prehistoric creatures is just one of those things that kids latch onto and want to know everything about. Luckily, there is a wide berth of information, and these children's books about dinosaurs offer a variety of ways for your little one to get their fill of both fun facts and fantasy stories all about these magnificent beings.
There is almost nothing like watching your child flip through the pages of a book filled with something that they just can't get enough of. A good book can open up a world of possibilities for kids, so supplying them with a plethora of reads that offer both imaginative takes and historical data about dinosaurs can really help enrich their exploration of the subject.
Whether your kid is the type who will eat nothing but dino-shaped chicken nuggets and wear their two-sizes-too-small T-Rex tee, or they want to learn every single statistic about the Jurassic period, there's a book on this list that will help further fuel their love for dinosaurs. Whether or not they grow up to be a bonafide paleontologist or not may still be up for debate, but in the meantime, they can at least enjoy getting lost in these 20 books.
We only include products that have been independently selected by Romper's editorial team. However, we may receive a portion of sales if you purchase a product through a link in this article.