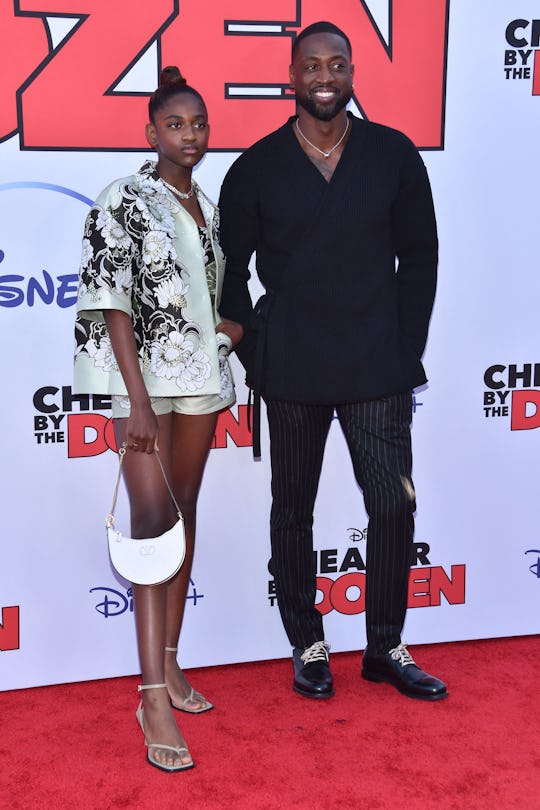 CHRIS DELMAS/AFP/Getty Images
Dwyane Wade Spoke Candidly About How He Worries Every Time Zaya Leaves The House
"And not just because of gun violence..."
Dwyane Wade has expressed his fears as the parent of a transgender child. During the TIME100 summit on Tuesday, the Miami Heat alum spoke candidly about his worries for his 15-year-old daughter, Zaya Wade, in today's world.
"As blessed as it is for my daughter to have parents who can support her, I'm still afraid every moment she leaves the house," Wade told CNN's Poppy Harlow during this year's TIME100 summit. "And not just because of gun violence, but because of the way people perceive her in this world."
Wade also condemned the anti-transgender legislation being passed and proposed across the country, from access to medical care for trans youth to blocking trans athletes from competing in sports. "To me, it's a joke. This is our life. We live this. When you're out there making rules, if you're not experiencing this," he said. "Come and live a day with my daughter. Come and see how it is to walk through this world as her."
Wade praised his teen for her courage and also shared what she has taught him in return over the years. "I went years without telling my chef that I don't like cilantro on my burger — as an adult, it took me years to have the confidence to say that," he said. "My daughter, at 8 years old, had the confidence to say 'This is who I am. This is who I want to be."
Zaya came out as trans in 2020. Since then, Wade and his wife, Gabrielle Union, have become outspoken advocates for LGTBQ+ right and the community, and have openly supported and defended their daughter.
Just last month, Wade shared his advice to parents with transgender children. "I would say the moment when you're in the hospital and you grabbed your daughter, and you looked at your daughter and all the things that went through your mind, all the emotions that went through your mind and how much love filled your heart at that moment," Wade told Variety in May. "Don't let that ever leave you, no matter what. The one thing as parents what we do is we find our mini-me's and we try to make them just like us."
He added, "Just understand, our kids are going to be who they are. It's our job to help mold them and help try to push them in the right places that they want to go. But, just remember that moment, what you said in that hospital that day they were born."