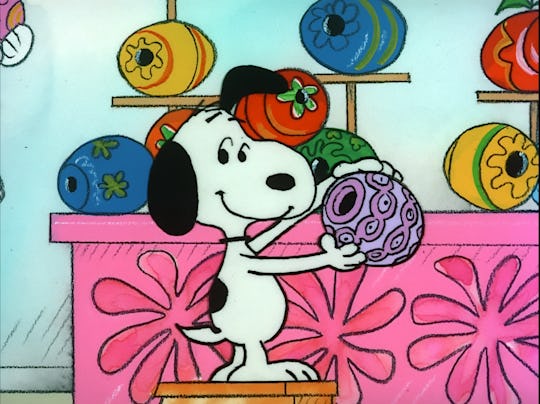 Apple TV+
Here's How To Watch It's the Easter Beagle, Charlie Brown This Year
Easter wouldn't be complete without Charlie Brown, Snoopy, and the rest of the Peanuts gang.
Bust out your festive bunny ears and load up on chocolate eggs because you can watch It's the Easter Beagle, Charlie Brown a couple ways this year. Debuted in 1974, the 30-minute, springtime Peanuts holiday special is a classic. And while it won't air on TV in 2021 like it has in years past, you can easily stream it.
In It's the Easter Beagle, Charlie Brown, Linus is excitedly waiting for the arrival of the Easter Beagle, a beagle who hands out Easter eggs each year and suspiciously looks a lot like Snoopy. Unfortunately, none of the other children believe him. Can you blame them after what happened when the Great Pumpkin never showed up? Meanwhile, Charlie, Lucy, Sally, and Marcy are getting ready for the Easter holiday by attempting to color eggs, but of course there are a few hiccups along the way. See? A Peanuts classic. So here is everything you need to know to watch It's the Easter Beagle, Charlie Brown this year.
Stream It On Apple TV+
It's the Easter Beagle, Charlie Brown will be available to stream on Apple TV+ on Friday, March 26, giving families plenty of time to watch the special before Easter Sunday, or make plans to watch it while relaxing after eating their big Easter feast. The special's arrival on Apple TV+ is part of the streaming service's partnership with Peanuts Worldwide and Lee Mendelson Film Productions.
While It's the Great Pumpkin, Charlie Brown and A Charlie Brown Thanksgiving were available to stream for free by anyone for a limited time, you will need an Apple TV+ subscription to watch It's the Easter Beagle, Charlie Brown. A subscription costs $4.99 a month after a seven day free trial. With a subscription, you can access the dozens of Charlie Brown holiday specials and original Peanuts content exclusive to Apple TV+.
Buy It On DVD
If streaming isn't your jam, you can purchase It's the Easter Beagle, Charlie Brown, with two additional Peanuts episodes on DVD for less than $13 from Amazon or from Best Buy.
There Is Also A Children's Book
And if you still haven't gotten your fill of Charlie Brown content after watching the special, you can buy the accompanying Easter-themed children's book, Here Comes The Easter Beagle! from Target for less than $5. It also comes with a festive sheet of stickers that will likely keep your kid entertained for hours, or at least, until they run out of places to put the stickers.