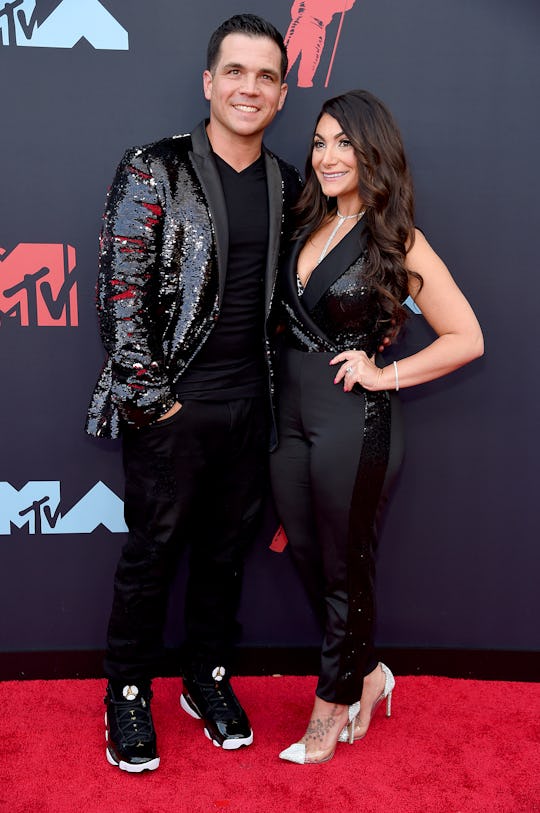 Jamie McCarthy/Getty Images Entertainment/Getty Images
Jersey Shore's Deena Buckner Is A Proud Mom To Her Two "Baby Meatballs"
The Jersey Shore: Family Vacation star is a married mom of two boys who are "partners in crime."
Deena Cortese Buckner may be known for inventing the "jersey turnpike" and meatballing down the boardwalk, but today the Jersey Shore star is a married mom of two who loves wearing matching t-shirts and can't resist an organized binder. But as Deena once said, "a leopard never sheds its stripes" and the reality star still likes to let loose from time to time on MTV's Jersey Shore: Family Vacation with her roomies. Here's what you need to know about Deena, her husband, and their two adorable kids.
Deena met her husband Chris Buckner while she was filming the original Jersey Shore.
Deena met her future husband back in 2011 through mutual friends. After a brief meeting at a New Jersey bar, Deena did what any sensible Millennial would do: she "decided to be a creep and stalk him on Facebook," as she shared on the couple's wedding website. While Deena was curious about Chris and started to ask friends about him, he already knew who she was from Jersey Shore.
The two dated for five years before Chris popped the question on a beach in Mexico in November 2016. "I always knew I would spend the rest of my life with Christopher," she captioned a photo of her engagement ring on Instagram.
Deena and Chris have been married since 2017.
The couple tied the knot on Oct. 28, 2017 at a winery in New Egypt, New Jersey and nearly all of Deena's Jersey Shore roomies attended the wedding. Nicole "Snooki" Polizzi posted a photo of her with the bride along with Jenni "JWoww" Farley, Mike "The Situation" Sorrentino, Paul DelVecchio (aka "DJ Pauly D"), Sammi "Sweetheart" Giancola, and Vinnie Guadagnino.
Deena's first child, a son named "CJ," was born in January 2019.
In July 2018, Deena announced her pregnancy with the couple's first child and gave birth to Christopher John "CJ" Buckner on Jan. 5, 2019. CJ is named after his father and Deena's late dad, John Cortese, who passed away in 2016 after a long battle with leukemia. In an Instagram post shortly after CJ's birth, Deena shared that she can "see so much" of her dad's smile in her son. "He has an amazing guardian angel looking over him," she wrote.
Deena gave birth to her second child, a son named Cameron, in May 2021.
Deena announced in October 2020 that the Buckner family was growing once again. "Our hearts are filled with so much love and joy! CJ is going to be the best big brother ever!!!" she wrote on Instagram at the time. The couple's second child, a son named Cameron Theo Buckner, was born on May 1, 2021.
Deena's kids and husband all appear on Jersey Shore: Family Vacation with her.
When she's not being a meatball, Deena's life as a mom is often showcased on Jersey Shore: Family Vacation. Her husband, a proud member of the "dirty stay-outs" with his wife on the family vacations, and her two kids often make appearances on the spin-off MTV series. In Season 6, for example, Deena had to skip one of the trips because her son Cameron had gotten sick with coxsackievirus. Deena tried desperately to keep everything sanitized so CJ wouldn't catch it as well, but eventually accepted her fate. "He's gonna wind up freaking getting it," a defeated Deena says to the camera crew in her house as she continues to pick up toys.
Deena vents about motherhood with Snooki on The Meatball Pod.
The two mawmas recently launched a new podcast called, The Meatball Pod, where they discuss their lives as reality TV stars, share behind-the-scenes details about Jersey Shore, like when they both got arrested on the OG series, and dish about motherhood. Snooki, for example, shared that her 8-year-old daughter Giovanna called 911 because her "mom was being mean" after she would't let her log on to TikTok. Snooki and Deena also answer questions from their listeners on the podcast and you can submit via voicemail your own by calling 732-508-7952.
While Deena is still a blast in a glass when she wants to be on Jersey Shore: Family Vacation, she clearly adores her life as a mom. She's referred to her sons as "partners in crime" and herself as a "mama meatball with her baby meatballs." Deena has also said she was "born" to be a mom. "I was born to be your mother," Deena wrote on Instagram in 2022. "I may have given you life, but in all honesty you helped me find mine."