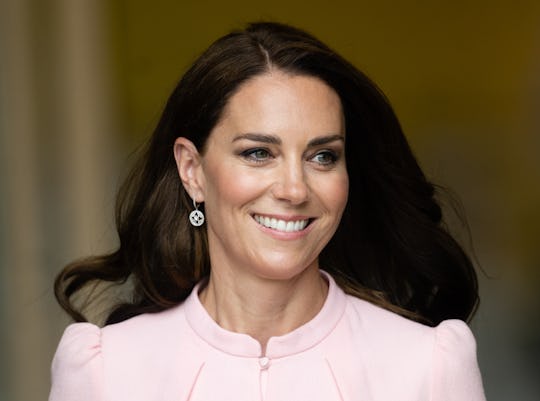 Samir Hussein/WireImage/Getty Images
Kate Middleton Has Stayed Up "Quite Late" Decorating Her Kids' Birthday Cakes
And she's not afraid to ask for advice from the pros.
It would perhaps be unfair to say that the Princess of Wales is a relatable person for the most part. She has a few too many tiaras and castles to really make that statement stick. But every once in a blue moon, Kate Middleton will let a little detail about her home life slip that is, indeed, far more relatable than you might expect. Like the fact that she apparently has sleepless nights trying to get her kids' birthday cakes exactly right.
Middleton and her husband Prince William joined Great British Bake-Off finalist Alice Fevronia to celebrate 75 years of the publicly-funded National Health Service at a party. While it was a royal function, the mom of three used the opportunity to ask Fevronia for tips on birthday cakes when the two were putting the finishing touches on cupcakes for the tea party.
"The princess was actually asking a lot of baking tips like 'How did you get the buttercream so smooth?'" Fevronia told People, adding that Middleton, who is mom to 9-year-old Prince George, 8-year-old Princess Charlotte, and 5-year-old Prince Louis, shared that she needed help with birthday cakes specifically. "She mentioned that she'd been up quite late on a couple of occasions trying to decorate the kids' birthday cakes."
Middleton has upheld a tradition of baking a birthday cake for each of her kids every year. And part of that tradition is staying up late to get it all finished. In fact, if she's really in a hurry, she'll even break out the cake mix to save herself precious time. "I love making the cake," Middleton told former Great British Bake-Off judge Mary Berry in 2019. "It's become a bit of a tradition that I stay up 'til midnight with ridiculous amounts of cake mix and icing and I make far too much. But I love it."
Apparently the mom of three never wastes an opportunity to grill anyone who has been on Great British Bake-Off if they happen to be within earshot. I hope her kids know the lengths to which she's willing to go to make sure they have amazing birthday cakes. Hopefully she'll meet another former contestant who is all about pancakes, because she loves making those with her kids for Mardi Gras and somehow ends up getting them on the ceiling.