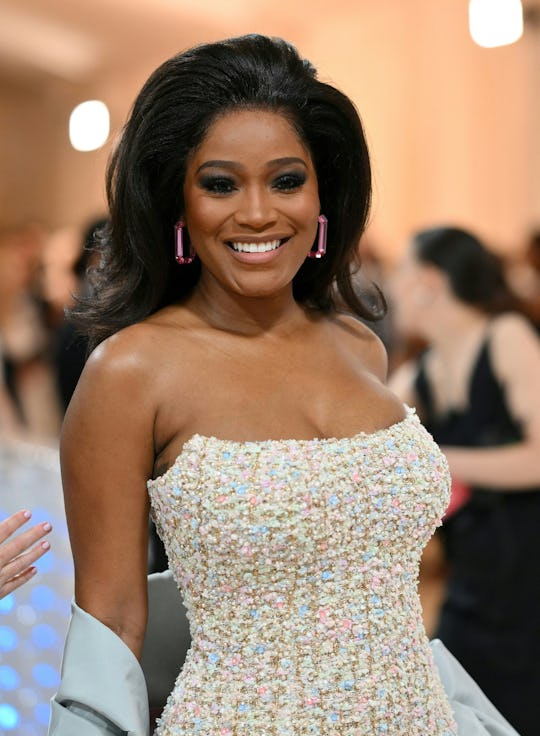 ANGELA WEISS/AFP/Getty Images
Keke Palmer's Son Leo Has Officially Reached The "Slapping Mom In The Face" Phase
He's also taken a liking to sticking his fingers up her nose.
Keke Palmer is already getting nostalgic for the early days of being a mom to her baby boy, Leodis "Leo" Andrellton Jackson. The Big Boss star shared a throwback video of little Leo giggling away, and she can't help noticing the change in him in recent months. Because apparently these days he's started slapping her across the face to get her attention.
Palmer welcomed Leo with boyfriend Darius Jackson in February, and has been gifting her followers with updates on life with her baby boy ever since. Her latest update featured an "archive" of her sweet baby boy, lying on a blanket on the grass as she nuzzled him and he giggled uncontrollably. She was clearly feeling nostalgic for the old days with Leo, especially since he has changed so much.
"Felt like sharing this amazing archive," Palmer wrote on Instagram, adding that things have changed since then. "Yesterday morning he started slapping me in the face to get my attention lolol. All I did was close my eyes for 5 seconds and he's sticking his fingers up my nose!! Lol like really?"
Leo has gotten into more than slapping and sticking his fingers up his mom's nose too. He is also into "squeezing my nose like my name is Ronald chile."
Regardless, the proud mom admitted, "I love to hear my boy's laugh."
Leo is just under six months old, which many parents could tell you is peak slapping season for babies. They are figuring out their little limbs, getting curious about the world around them, and are starting to notice reactions. So of course they think it's fun to slap, squeeze, pinch, and do all manner of things. And as Palmer is learning, parents tend to be the ones on the receiving end more often than not.
Regardless of Leo's newfound interest in being handsy with his mom, Palmer is always praising her son for the gifts he has brought to her life. Like her postpartum body and incredible skin, for instance, or the ability to set boundaries simply by saying "I'm a mother" and leaving it at that.
Leodis might have moved on from giggling to slapping, but we all know he'll shift back to the giggling again. Such is life with babies. Constantly changing, constantly growing, constantly sticking their fingers up our noses.