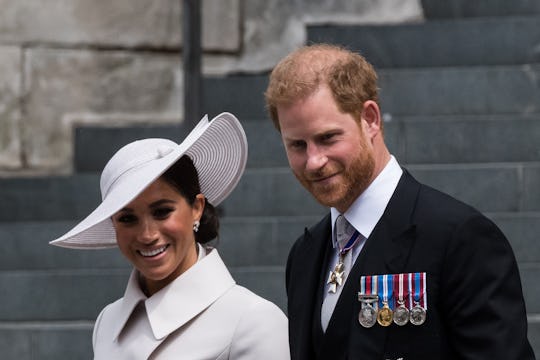 Anadolu Agency/Anadolu Agency/Getty Images
Meghan Markle & Prince Harry Hosted A Casual Picnic For Lilibet's 1st Birthday Party
There was face painting and a new pink ride-on toy!
Meghan Markle and Prince Harry deserve serious props for their visit to England for Queen Elizabeth's Platinum Jubilee. Not only did they travel with two young kids, they also hosted a birthday party for their 1-year-old daughter Lilibet. Any parent knows that birthday parties are difficult enough on your own turf, but hosting in a whole other country? That's seriously impressive.
Lilibet "Lili" Diana celebrated her very first birthday with friends and family at the couple's former home of Frogmore Cottage over the weekend, and it appeared to be a lovely, laidback event for everyone involved. The couple, along with their 3-year-old son Archie and birthday girl Lilibet, invited friends and family to a backyard picnic at Frogmore Cottage. Photographer Misan Harriman, a longtime family friend of the Sussex clan who has been responsible for some of the most iconic images of the couple, shared several photos of the event including one of little Lilibet sitting in the grass at her birthday party.
"It was such a privilege to celebrate the 1st birthday of Lilibet with my family and hers," Harriman wrote on Instagram. "Joy and face painting all around."
Harriman also included a photo of the Duchess of Sussex holding Lilibet in her arms, looking fresh-faced and happy with Harriman's wife and daughters, both of whom had their faces painted for the event. Lilibet, however, did not have her face painted. Perhaps because 1-year-old children are rather famous for not sitting still for too long.
Apart from the face-painting, royal correspondent Omid Scobie reported that Meghan and Harry had invited family and friends over for an "intimate backyard picnic" that included a birthday cake baked by British baker Claire Ptak, who incidentally made the couple's lemon elderflower cake for their 2018 wedding. Guests were invited to drop in whenever they had the chance, per The Sun, and offered snacks and refreshments outdoors.
While the list of people attending remains private, royal family members like Queen Elizabeth herself, Prince Harry's cousins Peter Phillips and Zara Tindall along with their children, Archie's godfather Charlie Van Straubenzee were all invited to attend, according to The Sun. "It was a lovely do and had everything you'd expect from a child's birthday party," a source told the outlet. "But there was no formal entertainment. The idea was for it to be very relaxed and casual, with people free to pop in and out as they wished. It was a nice opportunity for the other royal children to meet Lilibet for the first time. And as her first birthday is such a milestone, there was lots of discussion ahead of time about the presents that she would be given on the day. One idea that proved very popular was a £75 pink Volkswagen Beetle ride-on toy, which had been spotted in Selfridges."
Sadly, Lilibet's Cambridge cousins — Prince George, Princess Charlotte, and Prince Louis — were not at the party as they were out of the country, but Prince William and Kate Middleton did post a birthday message for her, as did her grandfather Prince Charles and his wife Camilla Parker-Bowles.
All in all, Lilibet's birthday sounded like a little slice of heaven. And we even got a new photo of her, so it's like we all got birthday presents ourselves.