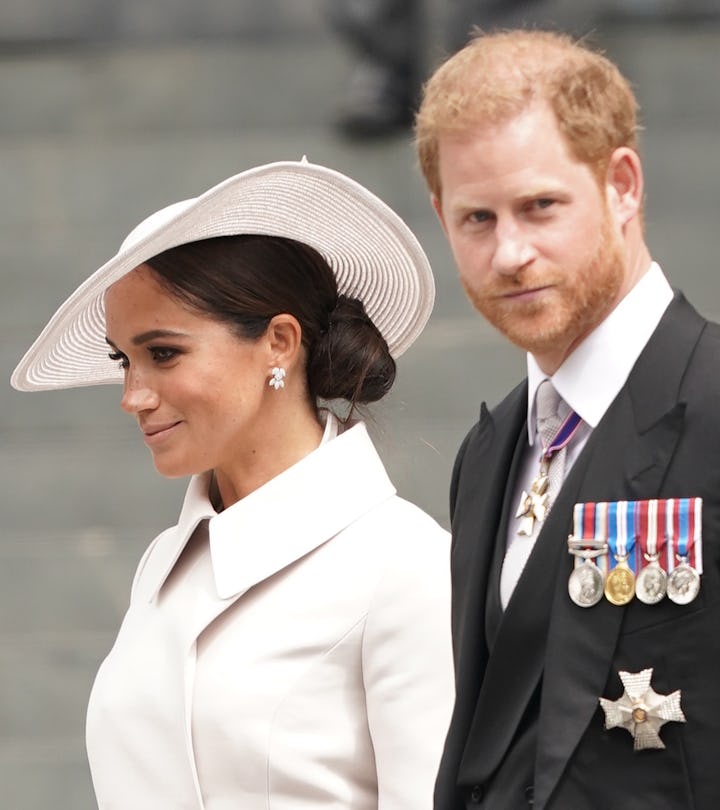 Aaron Chown - PA Images/PA Images/Getty Images
Meghan Markle & Prince Harry Were Greeted With Cheers At The Queen's Platinum Jubilee
They got a warmer welcome than Prime Minister Boris Johnson.
On Friday, June 3, Great Paul, the largest church bell Britain, rang out at 11 a.m. It was the first time it has ever tolled for a royal occasion, in this case a service of Thanksgiving at St. Paul's Cathedral in central London as part of Queen Elizabeth II's Platinum Jubilee. (Another first: no other British monarch has matched her 70 years on the throne.) Less historically, but perhaps more interestingly to modern royal watchers, it was the debut of Meghan Markle and Prince Harry, not just at the Jubilee but their first joint appearance at a royal event since they stepped down from their senior royal roles in 2020.
This is not the first time the Duke and Duchess of Sussex have returned to the UK since stepping down as "working royals" and moving to California in 2020. In April, the couple made a stop to privately visit with Queen Elizabeth at Windsor on their way to the Invictus Games in The Netherlands. And while Prince Harry has returned to the country for public engagements since 2020 — including his grandfather, Prince Philip's funeral in April 2021 and the unveiling of a statue in his mother's honor in July of that same year — the Jubilee marks the Sussex's first joint public appearance in their capacity as members of the royal family.
Samir Hussein/WireImage/Getty Images
Samir Hussein/WireImage/Getty Images
Samir Hussein/WireImage/Getty Images
The couple was greeted with cheers from crowds surrounding the church (that the crowds can even be heard is a feat, considering that 16 and 3/4 ton Great Paul is extremely loud). While Her Majesty was not in attendance (Buckingham Palace cites "mobility issues"), many members of the royal family were present, including Prince Harry's brother, Prince William, and his wife, Kate Middleton — the Duke and Duchess of Cambridge — who were also greeted with applause. Prime Minister Boris Johnson was also in attendance, but was greeted with what BBC presenter Jane Hill described as "quite a lot of booing."
The Duke and Duchess of Sussex were greeted with cheers at St. Paul.
While the Sussexes were not present on the balcony of Buckingham Palace during the Trooping of the Colour — an honor reserved for senior or working members of the royal family — Metro reports that they were not only present at a private luncheon afterwards but so too were their children, Archie and Lilibet. This marks the first time Queen Elizabeth has met her namesake — Lilibet is a childhood nickname of hers — and second youngest great-grandchild in person.