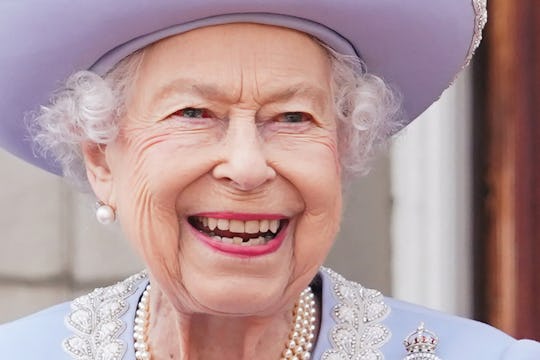 JONATHAN BRADY/AFP/Getty Images
Lilibet Has Finally Met Her "Gan-Gan"
UK media has reported that Queen Elizabeth II has met her namesake in person during a private lunch.
Queen Elizabeth II has finally met one of her youngest great-grandchild and namesake as Prince Harry and Meghan Markle joined their royal relatives for their first joint public appearance in the UK in two years to celebrate the queen's 70-year reign. The Duke and Duchess of Sussex brought both their children, 3-year-old Archie and nearly 1-year-old Lilibet "Lili" Diana, across the pond with them and reportedly had a private get-together with the queen.
On Thursday, Metro reports, Harry and Meghan introduced Lilibet to her 96-year-old great-grandmother at Windsor Castle. It's reported that the pair met in person during a private lunch with the senior royals after the Trooping the Colour. But don't expect any photos from the meeting.
"Those moments with Lilibet are very much private between them and the queen," Good Morning America contributor Omid Scobie told BBC, as reported by Metro. "They've been held back by a pandemic. Of course, the times that Harry has been here it's just been by himself for quite somber occasions. And so this really was the first time."
Scobie also mentioned that the now California-based couple, who stepped down from their senior royal duties in March 2020, wanted to be "as low-profile as possible during this trip" and didn't want to overshadow the queen, who is affectionately referred to as "Gan-Gan" by her great-grandchildren, during her Platinum Jubilee celebrations.
What makes the timing of their meeting even more special is that it happed just two days before Lilibet's first birthday, on June 4, which the Sussexes will reportedly celebrate at their old home, Frogmore Cottage. And while Archie spent the first several months of his life in England, this is Lilibet's first visit to her father's home country.
While Meghan and Harry haven't confirmed the meeting, royal fans were delighted to hear the reports. "I'm glad that the Queen has finally meet Lili," one tweet read. "She's met all her great grandchildren now and hopefully a moment she'll cherish. I hope that peace has been made with H&M so that the Queen may have more opportunities to see their children whilst she is still around." Another tweeted, "I'm so pleased to hear that Lilibet finally got to meet her great-grandmother, Lilibet. I do hope we get to see a picture of the union."
Queen Elizabeth II has 12 great-grandchildren and Lilibet is eighth in the line of succession to the British throne. Before their official in-person meeting, Meghan and Harry made sure to introduce their daughter to the monarch virtually. In June 2021, just days after she was born, People reported that Meghan and Harry introduced Lilibet to the queen during a video call. Hopefully now Queen Elizabeth got some snuggle time in with her namesake, and maybe Meghan and Harry snapped a few precious private photos of their meeting.