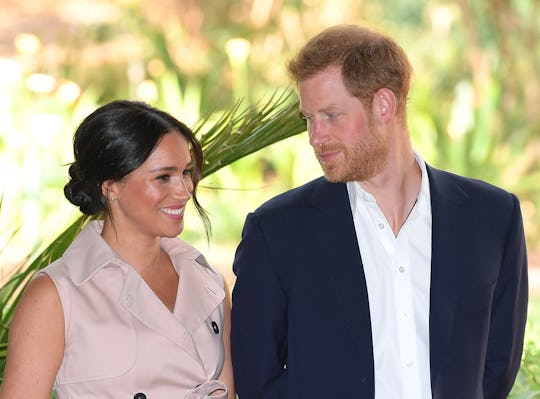 Karwai Tang/WireImage/Getty Images
Lilibet "Lili" Diana Will Celebrate Her First Birthday At Her Parents' Old Cottage
Hopefully with her royal cousins!
Meghan Markle and Prince Harry are getting ready to return to the UK to help celebrate Queen Elizabeth's Platinum Jubilee, and for the first time ever they'll be bringing both of their children with them. In fact, they'll even be celebrating a milestone birthday while they're visiting the rest of the royal family. Lilibet "Lili" Diana will turn one while they're in the country, and her proud parents have distinctly British birthday party plans for their sweet little girl.
The Duke and Duchess of Sussex announced at the beginning of May that they planned to return to England as a family, saying through a spokesperson that they were "excited and honoured to attend The Queen's Platinum Jubilee celebrations this June with their children." This visit, which is expected to take place from June 2 to 5 to coincide with Queen Elizabeth's celebrations marking 70 years of service on the throne, marks the first time the Sussexes have visited as a family of four.
Their daughter Lilibet was born in California on June 4, 2021, more than a year after the couple stepped down from their senior royal roles in January 2020 and has never visited her family on her father's side. She has never even met her namesake, Queen Elizabeth (whose nickname is Lilibet), in person.
That's all about to change. Lilibet is expected to be feted for her first birthday at the couple's former home of Frogmore Cottage, according to the Daily Mail, where they will reportedly be staying for the duration of their visit. Prince Harry's cousin Princess Eugenie, who is the only member of the royal family to have visited the couple at their Montecito, California home, was living at Frogmore Cottage but has vacated for the Sussexes' visit along with husband Jack Brooksbank and 1-year-old son August, according to British newspaper The Times.
While it's unclear who will be on the guest list for Lilibet's birthday party, it seems likely that Queen Elizabeth will be included along with other members of the royal family. Prince Harry's brother Prince William and sister-in-law Kate Middleton are slated to be Wales on Lilibet's birthday for a royal visit, but could potentially return that evening to celebrate. Hopefully along with their three children, 8-year-old Prince George, 7-year-old Princess Charlotte, and 4-year-old Prince Louis, who have yet to meet their cousin Lilibet. What a time it will be if they all manage to get together.