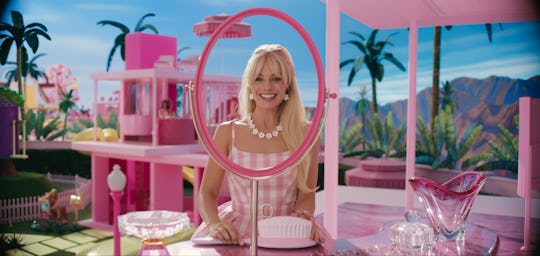 Warner Bros.
Margot Robbie Wore A Yellow Dress In That Moving Barbie Scene For A Special Reason
The costumes tell a story just as much as the script.
Note: Spoilers for Barbie are ahead.
The level of thought and detail that went into the making of Greta Gerwig's Barbie movie continues to amaze people. It seems like there was not one detail that wasn't mulled over, from the carefully constructed set design to the addition of characters like Allan and the perpetually pregnant Midge to the costumes. So when Margot Robbie wore a soft yellow dress at the end of the Barbie movie, of course it had a very special significance.
In a recent interview with Variety, Barbie costume designer Jacqueline Durran opened up about Stereotypical Barbie's dress at the end of the film. Unlike the bright pink dresses and costumes Robbie's character wore in earlier parts in the movie, this dress was a soft yellow silk dress worn as Barbie experiences the entire spectrum of human emotion and needs to decide if she wants to become human or stay in Barbie Land, with Billie Eillish singing "What Was I Made For" in the background.
"The Barbies have gone through all of that stuff and they're now the most fulfilled versions of themselves," Durran told Variety. "And that sets the scene for what's happening to Margot's Barbie as she's becoming human."
To that end, Durran wanted Barbie's dress to be something special and different from the rest of the bright pink costumes. So she asked the people at Mattel which Barbie costume was the most popular in the past five or 10 years and discovered it was a yellow dress.
With that in mind, Durran decided to custom make a dress that would drape on Barbie instead of sticking with her former bias cut costumes. "We wanted a soft yellow and wanted it to have less pop. So, we printed that yellow onto white silk, and because of the cut, it clings to the body. That's not really a Barbie characteristic — the Barbie characteristic is to be cut straight and to create a shape that falls away from the body," she told Variety.
As Barbie transitioned from a doll to a human being, this yellow dress signified her new life. A muted tone, a dress that drapes. And of course, she eventually even embraces the iconic Birkenstocks. The entire movie was an evolution of Barbie's style, from the first Barbie standing in her black-and-white bathing suit until Barbie heads off to the OB-GYN in Birkenstocks and jeans.
The costumes tell a story just as much as the script. Yellow dress and all.