It's Good Not To Be The King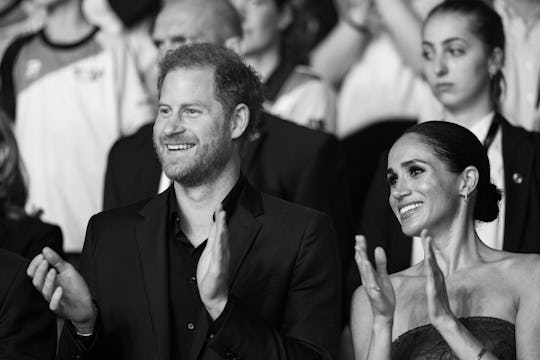 Joshua Sammer/Getty Images Entertainment/Getty Images
Meghan Markle & Prince Harry Flew To Vegas To See Their Neighbor Katy Perry
Perry's 3-year-old daughter Daisy also made a rare public appearance.
Meghan Markle and Prince Harry are really living that good old, southern California celebrity lifestyle these days. The Duke and Duchess of Sussex recently jetted off to see (their neighbor) Katy Perry in concert as her Las Vegas residency drew to a close. They quite literally jetted off, apparently, as the parents of two took a private plane with some of their famous friends to the event. This officially completes their metamorphosis from senior royals to bona fide Hollywood celebrities.
Markle and Prince Harry joined their longtime friend, fashion designer Misha Nonoo, at the final show of Katy Perry's PLAY concert, according to multiple photos shared on Twitter. They were not the only famous people in the crowd. The former royals were reportedly spotted arriving at the concert with Cameron Diaz, Benji Madden, and Zoe Saldana, per the Daily Mail.
Perry's husband Orlando Bloom was also on hand with the couple's 3-year-old daughter Daisy, who was seen cheering her mom on in the crowd. Naturally, the sight of Markle and Prince Harry in the crowd had people extra excited. The only thing that might have been more exciting would have been the appearance of their 4-year-old son Archie and 2-year-old daughter Lilibet. (They could have played with Daisy, who is, after all, one of their Montecito neighbors.)
Prince Harry and Orlando Bloom have struck up something of a dad friendship since the former royal moved to Montecito in 2021. Prince Harry told Dax Shepard in a 2021 episode of Armchair Expert. "Just two days ago, Orlando Bloom sent me a message — because he's just down the road and we sort of keep in contact because of the paparazzi — he sent me a photograph which his security got of this long-haired guy with a beanie on, with his ear pods in, with his massive camera lying in the back of his 4x4 truck," he recalled at the time. "A woman driving who did the peace sign sitting there as a distraction, and he is laid down in the back of this truck taking photographs of them out with their kid and whoever else is in that area."
Such is the life of a celebrity, I guess, but it certainly comes with its perks. Private planes to go watch your gal-pal down the street (who just so happens to be Katy Perry) sound pretty good. It's not the first time the Sussexes have cut loose at a concert: Markle went to Beyoncé's birthday concert in Los Angeles with Kelly Rowland and Kerry Washington.
Post-royal life does not seem so bad after all.