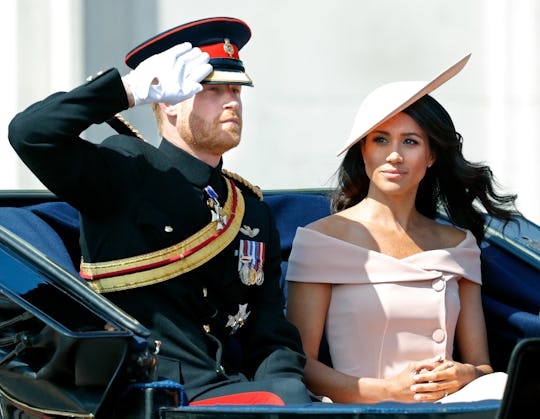 Max Mumby/Indigo/Getty Images Entertainment/Getty Images
Meghan Markle & Prince Harry Deny Reports They're Suing Over South Park Episode
"It's all frankly nonsense. Totally baseless, boring reports."
The Duke and Duchess of Sussex have responded to a flurry of reports regarding a recent South Park episode that mocked the couple. Since the episode — titled "Worldwide Privacy Tour" — aired last Wednesday, several news outlets reported that Meghan Markle and Prince Harry may be planning to sue the Comedy Central animated series. But, according to their rep, that is not the case.
"It's all frankly nonsense. Totally baseless, boring reports," a spokesperson for the Duke and Duchess of Sussex told People on Tuesday.
The Season 26 South Park episode did not explicitly name Harry and Meghan, referring to the animated characters only as "the prince of Canada and his wife" who "try to find privacy and seclusion in a small mountain town." But from a parody version of Prince Harry's memoir Spare, titled Waaagh in the episode, to an animated version of what appears to be Meghan's 2018 Trooping the Colour dress and hat, it's undeniably clear who South Park was depicting.
The episode opens with a funeral for the Queen of Canada as "the prince and his wife who've been bashing the Canadian monarchy" enter the church. The characters then appear on a Canadian talk show — walking on stage shouting "We want privacy!" and holding signs that say "Stop looking at us!" — before heading out on a "Worldwide Privacy Tour" and settling in South Park, Colorado.
Citing "a source in California," the Daily Mail reported that Meghan was "upset and overwhelmed" by the episode, while an insider told The Spectator that she was "annoyed by South Park but refuses to watch it all." And on Monday, royal reporter Neil Sean told Fox News that Meghan and Harry's legal team may be taking action. "Their legal team are casting an eye over the episode to see what is wrong, and what could be turned into something more sinister. This appears to be their course of action rather than laughing it off, enjoying the moment and showing the world that they get the joke," Sean told the news outlet. But as Meghan and Harry's rep said, all of those reports were "baseless."
While tabloids have often criticized the former senior royals for wanting privacy, Meghan and Harry previously shut down those claims. "Their statement announcing their decision to step back mentions nothing of privacy and reiterates their desire to continue their roles and public duties," the couple's global press secretary told The New York Times in December 2022, following the release of their Netflix docuseries Harry & Meghan. "Any suggestion otherwise speaks to a key point of this series. They are choosing to share their story, on their terms, and yet the tabloid media has created an entirely untrue narrative that permeates press coverage and public opinion. The facts are right in front of them."
That wasn't the first time the Duke and Duchess of Sussex, who share 3-year-old son Archie and 1-year-old daughter Lilibet, have addressed the subject of privacy. During their March 2021 interview with Oprah Winfrey, Meghan said she believes "everyone has a basic right to privacy," especially when it involves children. "There's no one who's on Instagram or social media that would say, 'Because I shared this one picture, that entitles you to have my entire camera roll. Go ahead and look through it.' No one would want that," she told Winfrey at the time. "So it's about boundaries. And it's about respect."
South Park has spoofed other members of the royal family before and as fascination about them and the monarchy as a whole continues, this surely won't be the last time.