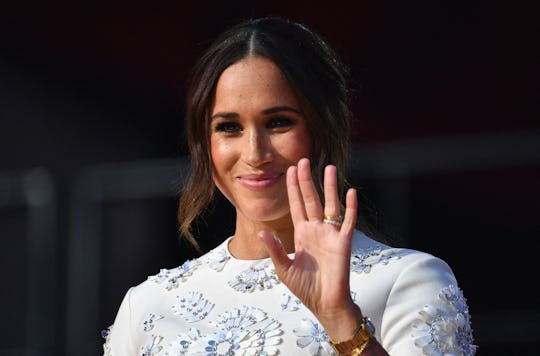 ANGELA WEISS/AFP/Getty Images
Meghan Markle's New Spotify Podcast Officially Has A Title & A Teaser
Whether or not Archie will make another cameo is still TBD...
It's been something of a wild ride since Spotify signed a deal with the Duke and Duchess of Sussex through their Archewell Foundation in December 2020. A bit of a "will they, won't they" situation that had anxious royal fans on the edge of their seats to see if the couple would be delivering any content for their adoring listeners. And the wait is finally over. Spotify has confirmed that Meghan Markle has a podcast series premiering this summer. A podcast she will host herself, even. Here's what we know so far.
Meghan Markle is launching her Spotify podcast is Summer 2022
Earlier this month, a representative for Archewell confirmed the exciting news that Meghan is working on a new podcast series set to premiere this summer. "The studio had encouraging conversations with Spotify executives regarding the platform's misinformation policies and practices," the rep told The Hollywood Reporter. "As a result, the studio is moving forward with the production of Archewell's first podcast series, from the Duchess of Sussex."
And the podcast has a name: Archetypes. In a statement shared with Romper on March 24, Spotify said the series will investigate "the labels that try to hold women back" and Meghan will "speak with historians and experts to uncover the origin of these stereotypes and have uncensored conversations with women who know all too well how these typecasts shape narratives."
Spotify released a teaser for the podcast featuring Meghan Markle
A little snippet from Archetypes dives into the nature of the way women are portrayed in society and the media. The teaser opens with soundbites from different programs where women are called "sluts" or told to smile at compliments, and then Meghan herself comes in with a voiceover saying: "This is how we talk about women: the words that raise our girls, and how the media reflects women back to us... but where do these stereotypes come from? And how do they keep showing up and defining our lives?"
"This is Archetypes — the podcast where we dissect, explore, and subvert the labels that try to hold women back," Meghan continues. "I'll have conversations with women who know all too well how these typecasts shape our narratives. And I'll talk to historians to understand how we even got here in the first place."
Meghan has never made any secret about the fact that she is a staunch feminist. She has been, indeed, since she was a young girl fighting sexist stereotypes in a dish soap commercial. As a senior member of the royal family, Meghan's patronage focus was helping women find their way to live their best lives, whether by supporting their return to the workplace or helping publish a cookbook. Meghan is expertly suited to host a podcast like Archetypes.
Production for the podcast was initially stalled
The Duke and Duchess of Sussex initially signed a multiyear, multimillion dollar podcast deal with Spotify that was put to the test in January. The couple shared a statement via their Archewell rep showing concern over the possibly spread of misinformation on the streaming service. Along with musicians Joni Mitchell, Neil Young and author Brené Brown, the couple expressed their reservations about Joe Rogan's podcast, which was on Spotify, and the spread of Covid-19 vaccine misinformation. "Last April, our co-founders began expressing concerns to our partners at Spotify about the all-too-real consequences of COVID-19 misinformation on its platform. We have continued to express our concerns to Spotify to ensure changes to its platform are made to help address this public health crisis. We look to Spotify to meet this moment and are committed to continuing our work together as it does."
Since then, their rep explained in a statement that Meghan and Harry have had ongoing conversations regarding those concerns and have decided to continue working on content for the platform.
They released one episode for Spotify in 2020
In December 2020, Meghan and Harry shared their first, and as of yet only, podcast episode for Spotify. It was a holiday special featuring high profile guests Stacey Abrams, Brené Brown, Deepak Chopra, Rachel Cargle, Sir Elton John, Tyler Perry and even a cameo from their little boy Archie. Since then, the couple have been busy in their personal lives welcoming their baby girl Lilibet "Lili" Diana in June 2021. And apparently Meghan has been busy getting her podcast series ready.
This article was originally published on