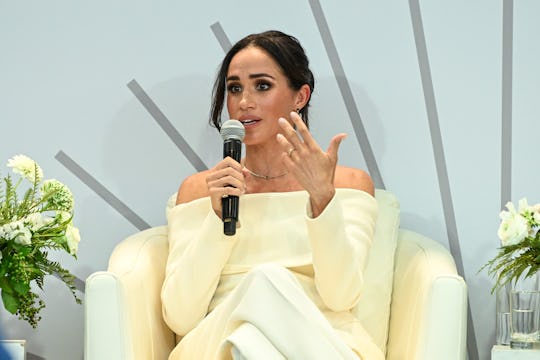 Bryan Bedder/Getty Images Entertainment/Getty Images
Meghan Markle Shares What "Worries" Her About Archie & Lilibet Growing Up
"Social media is not going away."
Meghan Markle's two children with Prince Harry, son Archie and daughter Lilibet, might be young, but she's already thinking about how social media will impact their future mental health. And so far, she's "frightened" by the idea of them scrolling through TikTok and Instagram. The Duchess of Sussex admitted during the World Mental Health Day Festival in New York City that she worries about her two children using social media, but at the same time, she also thinks there is reason to hope for a better future.
The former royal couple were in New York City to take part in a discussion with host Carson Daly about online harm. When speaking about social media and the harm it can do to children, she explained that "being a mom is the most important thing in my life," and that she feels "fortunate that our children are at an age when they are still quite young, so this isn't in our immediate future." Her son Archie is 4 years old while daughter Lilibet is just 2 years old, so the internet is not really a thing in their lives at this point. But, as Markle pointed out, "social media is not going away." Markle went on to acknowledge that she knows social media and the internet "will be in front of us."
"As they say, 'Being a parent, the days are long but the years are short.' So it worries me, but I'm also given a lot of hope and a lot of energy by the progress we've made in the last year," she added.
Markle is certainly not alone in her worry over online harm. U.S. Surgeon General Dr. Vivek Murthy, who joined the Sussexes onstage at the event, issued a 25-page official warning earlier this year about the "profound risk of harm" social media has on kids. Murthy believes social media to be a massive contributor to the "national youth mental health crisis" the country is currently experiencing.
Prince Harry has also opened up about his own fears that his children will be negatively affected by social media in the future. "As parents, my wife and I are concerned about the next generation growing up in a world where they are treated as digital experiments for companies to make money and where things like hatred and harm are somehow normalized," he said in 2022. "We want our children and all children to feel empowered to speak up."
The dad of two went on to say, "My two little ones are still at their age of innocence. Sometimes I feel like I can keep them away from the online harm that they could face in the future forever, but I'm learning to know better."