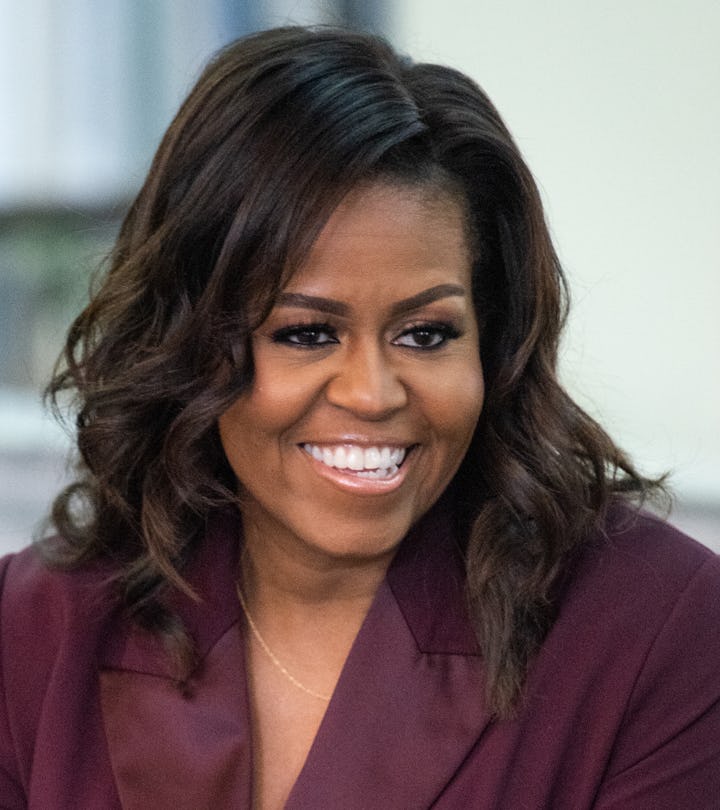 Jim Bennett/Getty Images Entertainment/Getty Images
Exclusive: Michelle Obama Shares The Clever Way She Got Sasha & Malia To Eat Their Veggies
While chatting with fellow mom Tamron Hall, the former first lady revealed how she got her daughters excited about vegetables.
While promoting her new Netflix series Waffles + Mochi in an upcoming interview with Tamron Hall, Michelle Obama revealed how she introduced vegetables to her daughters and shared a few tips for parents to encourage their kids to eat their veggies. In a clip shared exclusively with Romper, the former first lady told Hall she employed a "just try it" approach and exposed Malia and Sasha Obama to a wide variety of different vegetables while they were young in an effort to find a few the girls liked and would regularly eat.
"You try different types of vegetables," Obama said in Romper's exclusive clip for the March 23rd episode of the Tamron Hall Show. "That's what we did. It was just sort of, 'pick one. You don't have to eat them all.'"
After a bit of sampling, Obama said Malia and Sasha found there were at least three green veggies that they liked. "The kids like peas, they like broccoli, they like string beans," she revealed. "So I would do those."
But getting kids to actually eat their veggies can often involve more than just finding out whether they prefer asparagus over kale. Along with cutting vegetables down to a size kids can easily manage, Obama also recommended starting kids off with a small amount. "I would give them small assignments," Obama told Hall. "I wouldn't pile on a plate of vegetables and expect them to eat it. You start out with, 'try it.'"
Once kids have tried at least one bite, Obama said parents can move on to coaching them to try two or three pieces and then eventually to trying to finish all the vegetables on their plate.
Obama's suggestions came as a revelation to Hall, who became a mom at 48 years old in 2019. "I've been doing this all wrong and you're telling me now?" Hall said with a laugh, noting she'd been putting a large platter of vegetables in front of her son, who is nearly 2 years old.
"That's probably a little overwhelming," Obama said. "It's sort of like, 'I got to eat a whole head of lettuce mom, really?'"
The former first lady, whose new Netflix series Waffles + Mochi focuses on exposing children to healthy foods, also recommended finding age-appropriate ways to get kids involved in cooking and food prep in an effort to get them more excited about eating what's on their plate.
"The other thing that's helpful though is making them a part of the process," Obama said, telling Hall that even young kids can be given toy utensils and allowed to pretend to chop up a vegetable. "Give him the assignment to cut up the vegetables and to be a part of the process because when you get them in the kitchen and they feel like they're a part of it, they're more likely to try something that they think they've controlled."
You can catch Obama's full interview when it airs Tuesday, March 23 on the Tamron Hall Show.