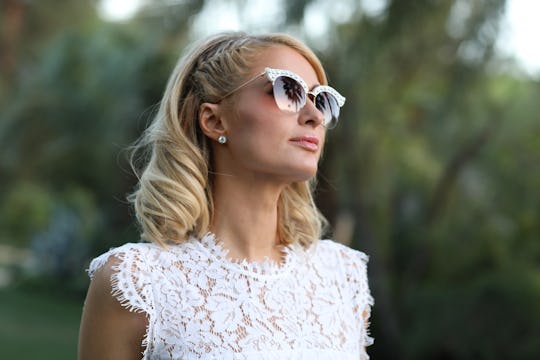 WWD/Penske Media/Getty Images
Paris Hilton Shares She Had An Abortion In Her Early 20s
"I was a kid and I was not ready for that."
Paris Hilton has opened up for the first time about having an abortion two decades ago. In a new cover story for Glamour UK, the new mom revealed that she chose to have an abortion in her early 20s because she "was not ready" to become a mother and is now using her platform to shed light on on an urgent issue as reproductive rights remain under attack across the United States.
"This was also something that I didn't want to talk about because there was so much shame around that," Hilton, now 42, told Glamour UK. "I was a kid and I was not ready for that."
Hilton went on to explain that she thought it was "important" for her to share her story, as a public figure, after the U.S. Supreme Court repealed Roe v. Wade last June, overturning abortion rights that had been in place for 50 years.
"I think it is important," she told the magazine. "There's just so much politics around it and all that, but it's a woman's body… Why should there be a law based on that? It's your body, your choice and I really believe in that. It's mind-boggling to me that they're making laws about what you do with your reproductive health, because if it were the other way around with the guys, it would not be this way at all."
Now, 20 years later, Hilton is ready for life as a parent and recently told TODAY she is "loving being a new mom" after welcoming her first child, a son named Phoenix Barron Hilton Reum, with husband Carter Reum via surrogate in January. Her decision to use a surrogate, she explained to Glamour UK, was not due to her age, but her fear of childbirth. In fact, she said she'd still use a surrogate if she was 20 years old.
"I'm just so scared," Hilton told the magazine adding that witnessing a woman give birth while she was on The Simple Life in the early 2000s had traumatized her. "But I want a family so bad, it's just the physical part of doing it," she said. "I'm just so scared… childbirth and death are the two things that scare me more than anything in the world."
Now, Hilton and Reum, who married in November 2021, have their family and are parents to a little boy, who is "are already loved beyond words," as she shared on Instagram to announce his birth last month.
And their family may continue to grow. Hilton had previously shared that she'd like "two or three" kids and during a recent episode on her podcast, This Is Paris, she said that she feels "complete" now that Phoenix is in her life. "From the moment I laid eyes on him, my heart felt so full. I feel like my life is so complete now," Hilton said. "I always wanted to be a mom."