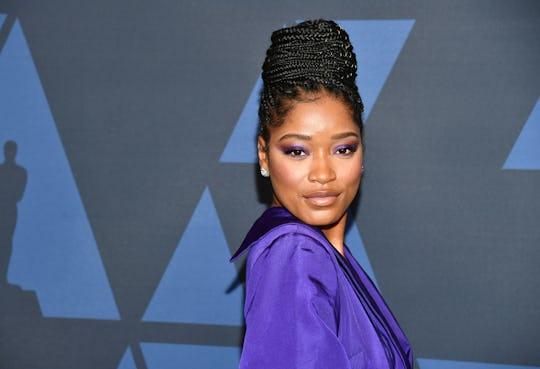 Variety/Penske Media/Getty Images
Keke Palmer Can't Wait For This Under-Appreciated Perk Of Motherhood
"At the end of the day, I'm a mom."
Motherhood comes with a whole bunch of surprising perks. Yes, you get to love an adorable little baby and have them love you back, that's a big one. But there's another perk that is often not discussed, but pregnant Keke Palmer is already thinking about it before she welcomes her first baby. As the Nope actress pointed out, she now has the perfect answer when she needs to shut down an argument.
Palmer spoke to E! recently about becoming a first time mom with boyfriend Darius Jackson, and she made it very clear she is loving absolutely every minute of her pregnancy. "I feel the most powerful that I have ever felt being pregnant," the Lightyear star told the outlet. "I feel like, 'Yo, I could do anything.' It gives you this Superwoman-type of strength."
It isn't just her newfound strength that's getting her excited about motherhood. Palmer also can't wait to cut an argument short by playing her mom card. "And also just the idea of knowing that you're gonna be somebody's mom — my friends and I talk about how a mother loves when she gets in an argument with somebody [to say], 'At the end of the day, I'm a mom.'"
While Palmer admitted that she didn't really understand what that meant before, now she gets it. "But soon as you start becoming a mom yourself, that's your thing," Palmer said "Like, 'Honey, I'm above.' And that's how you feel."
This is not the first time Palmer has opened up about her excitement to become a mom. The expectant mom and Jimmy Fallon talked about her child's potential astrological sign and how she might handle an "emotional" Pisces on The Tonight Show, where she also happened to slyly drop in an announcement that she her baby is a boy.
And of course, who could ever forget the saga of her suddenly clingy cat Jackie, who Palmer was convinced might be contemplating murder because she was far too interested in her pregnant belly for comfort?
Keke Palmer is really switched on to all the best parts of motherhood. The ability to end an argument by letting your opponent know you are "above" them because you're a mom. Cat drama. Star sign musings. Really, she has all her bases covered here, no notes.