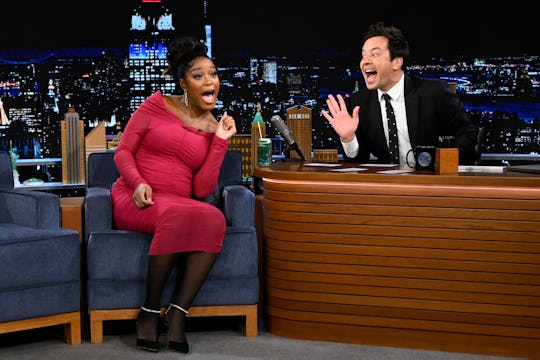 NBC/NBCUniversal/Getty Images
Keke Palmer Casually Drops Her Baby's Sex On Jimmy Fallon
Then sat slyly sipping a La Croix.
Keke Palmer is really living her best pregnant life. Ever since she announced she was expecting her first child with boyfriend Darius Jackson during her Saturday Night Live monologue in December, Palmer seems to be enjoying every stage of her pregnancy. Including her very casual mention of her baby's sex during an interview on The Tonight Show with Jimmy Fallon. She had fun with it and did it her way. Classic Keke.
The Nope star arrived on set for her interview in an incredible pink dress that highlighted her baby bump, and host Fallon was there to make sure she had a pillow for her back support and a drink to stay hydrated. The conversation turned to her pregnancy reveal on SNL before moving on to the most important subject at hand, her baby. And their astrological sign. "My baby is either going to be a Pisces or Aries," Palmer told Fallon. "I'm not sure exactly. Pisces are known to be very deep. They're emotional creatures."
Then she went on to casually mention for the first time that she is, indeed, expecting a son. "So I just want to make sure I'm not too blunt for my baby boy." And the conversation just moved on like nothing happened while she slyly sipped her La Croix. Genius.
Palmer, who has been dating dad-to-be Jackson since 2021, has been openly excited about becoming a mom since that first SNL reveal, when she opened her jacket to show the world her baby bump and said, "You know, I gotta say though, it is bad when people on the internet spread rumors about you y'all, but it's even worse when they're correct. But honestly this has been the biggest blessing, and I am so excited guys — I'm gonna be a mom!"
Since then, Palmer has been sharing loads of updates with her followers. Like amazing photos from a babymoon in nature, and updating her fans on her cat Jackie's sudden need to cuddle up close to her pregnant belly, leaving her wondering if Jackie might know she's pregnant and what she might do with that information.
Now we know she is having a baby boy (who will either be a Pisces or an Aries), pointing to a mid-to-late March birth date. We'll just have to wait and see.