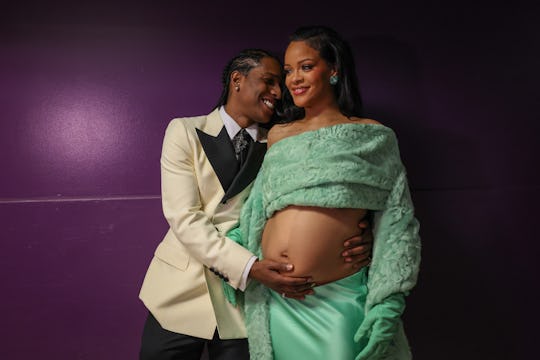 Robert Gauthier/Los Angeles Times/Getty Images
A$AP Rocky Simply Couldn't Stop Smiling While Supporting Rihanna At The Oscars
He even toasted her performance.
When Rihanna stepped on to the stage to perform her Oscar-nominated song "Lift Me Up" from Black Panther: Wakanda Forever on Sunday night, the audience was obviously excited. But no one was more excited for Rihanna's performance than her partner A$AP Rocky. Time and again he has proven to be her biggest fan, and the 95th Academy Awards were no exception.
The "Love on the Brain" singer arrived at the Dolby Theater in Los Angeles on Sunday wearing a form-fitting black Alaïa dress with a leather halter bandeau, all the better to accent her burgeoning baby bump. Rihanna announced her second pregnancy during her halftime performance at the Super Bowl in February, letting the world know that she and A$AP Rocky would be making their 10-month-old baby boy, who's name they've chosen not to share publicly, a big brother in a few short months.
Rihanna and A$AP were clearly enjoying a glamorous parents' night out at the Oscars. The singer went through several outfit changes while A$AP Rocky never seemed to stop smiling. Especially when Rihanna took to the stage to sing her Oscar-nominated song in a sheer lace dress and long leateher gloves.
Rihanna arriving at the 95th Annual Academy Awards.Jeff Kravitz/FilmMagic, Inc/Getty Images
Rihanna sang "Lift Me Up" at the 2023 Oscars. Myung J. Chun/Los Angeles Times/Getty Images
He didn't just smile during her performance, he got out of his seat to cheer and even toasted her with his champagne glass.
The expectant parents got cozy for a backstage photo shoot at the Oscars as well, with Rihanna wrapped in a soft seafoam green top and skirt exposing her pregnant belly. Which A$AP Rocky supported with a smile, as ever.
This isn't the first time A$AP Rocky has shown up to both support and cheer for Rihanna, of course. At the Super Bowl halftime show he was in the crowd cheering for her sporting pleated dad pants no less. And fans of the singer are starting to really appreciate his appreciation for her. "If your man doesn't look at you the way ASAP looks at Rihanna, dump him," wrote one social media user while another added, "Get yourself a man that always cheers you on like this."
Certainly the couple have lots to celebrate with each other these days. Their growing family most definitely being number one on their list, something which appears to have brought them even closer together in recent months. As Rihanna herself said, those early days of motherhood were "trippy as hell," so it must have been a great relief to have her true partner by her side. Lifting her up, just as the song says.