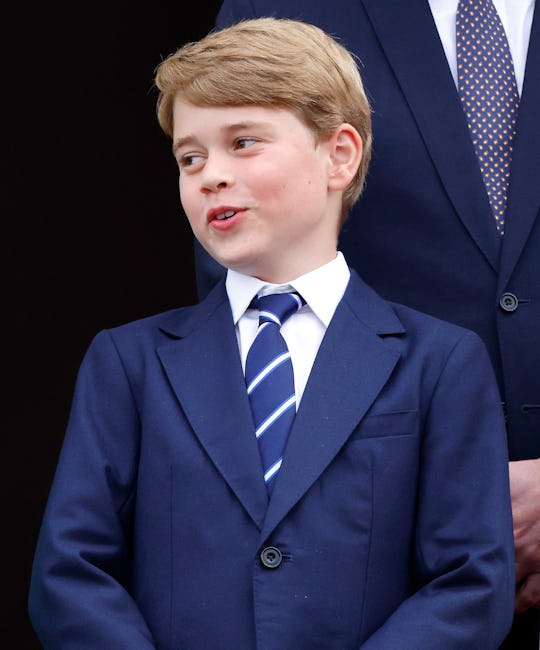 Max Mumby/Indigo/Getty Images Entertainment/Getty Images
Prince George Hosted A "Little Cake Sale" For One Of His Dad's Favorite Charities
Do you think he baked the cakes himself?
If ever Prince William was worried that his oldest son and heir Prince George wasn't paying attention to his dad's royal charities, it seems he can rest easy. Because 8-year-old Prince George, future monarch to the whole of Great Britain, held a little charity bake sale to raise money for one of his dad's most treasured causes.
Since 2005, Prince William has been the royal patron of Tusk, a charitable organization that supports conservation efforts in Africa. "The Duke's support for Tusk over the years has been immensely helpful in raising both the profile of the charity and the funds that we need," Charlie Mayhew, chief executive of Tusk, wrote of Prince William. "His ability to draw global attention to the plight of endangered species being decimated by illegal wildlife trade has been warmly welcomed by conservationists across the globe and we are enormously grateful to him."
Yes, the Duke of Cambridge might be drawing global attention to Tusk, but did he sell cakes for them? His son certainly did, according to Mayhew.
"Prince George very sweetly did a little cake sale to raise money for Tusk during lockdown and wrote a very sweet card about it, clearly demonstrating his concern for Africa's wildlife," Mayhew told The Independent. And now I want to know if he baked the cakes himself, and how much he was selling them for, and whether or not he used the same recipes he used his siblings used to bake cakes for the Platinum Jubilee celebrations in Cardiff, Wales.
Prince George has already shown a keen interest in wildlife conservation, particularly after watching wildlife documentaries by Sir David Attenborough, according to Prince William. "Having watched so many David Attenborough documentaries recently with my children, they absolutely love them, the most recent one — the extinction one — actually George and I had to turn it off, we got so sad about it halfway through," the dad of three said in 2020. "He said to me, 'You know, I don't want to watch this anymore.'" The documentary made Prince George sad, his dad explained, and when it came time to speak to the documentarian via video he even asked the documentarian, "What animal do you think will become extinct next?"
Now the future king is doing something about it. He is combining his love of baking cakes, which he gets from mom Kate Middleton, and his passion to protect the environment. A delicious combination indeed.