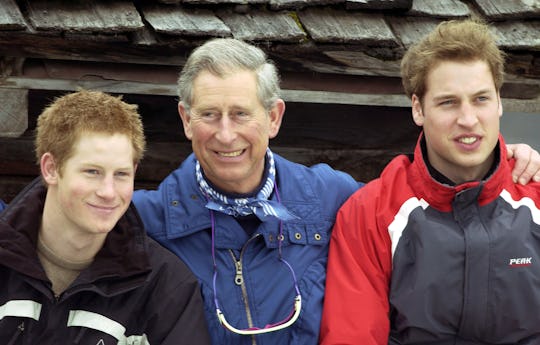 Anwar Hussein/Getty Images Entertainment/Getty Images
Prince Harry Says He Wants His Father & Brother "Back" After Fallout
The Duke of Sussex sat down for an interview with ITV's Tom Bradby ahead of the Jan. 10 release of his memoir Spare.
King Charles III is set to have an awfully big year in 2023, arguably the most significant in his life as a royal. On May 6, he will celebrate his official coronation and ascend to the throne, and of course his family will be there with him. Or much of his family will be with him, at any rate. It seems unlikely that his youngest son Prince Harry and his family will make the journey from California to London for the coronation, and that is not necessarily how the father of two wants it. Prince Harry admitted in an upcoming interview with ITV that he wants to reconcile with his family, but whether or not that wish will become reality remains to be seen.
Prince Harry sat down for an interview with ITV's Tom Bradby ahead of the Jan. 10 release of his memoir Spare, and naturally the conversation turned to the royal family. In a clip from the upcoming interview with Bradby, which will air on Jan. 8, Prince Harry is heard saying that he "wants a family, not an institution."
"I would like to get my father back," he said. "I would like to have my brother back."
Prince Harry also spoke to CNN's Anderson Cooper for 60 Minutes, which will be released on Sunday as well, about his struggle to make his voice heard when the royal family has long held a very different policy. "Every single time I've tried to do it privately there have been briefings and leakings and planting of stories against me and my wife," the father of two said in clips shared Monday. "You know, the family motto is 'Never complain, never explain.' It's just a motto."
Both Prince Harry and his wife Meghan Markle have been speaking out about their experience in a bit of a spectacular fashion of late. Their six-part Netflix docuseries Harry & Meghan, which was released in December, covered the couple's decision to step down from their senior royal roles amid their struggles with the British media, in particular the media's treatment of the Duchess of Sussex and the apparent unwillingness of the royal family to protect them. The royal family, as ever, has kept quiet on both the documentary and Prince Harry's soon-to-be-released memoir. Whether or not King Charles hopes to bring his youngest son back into the fold or indeed include him in his historic coronation ceremony is anyone's guess.