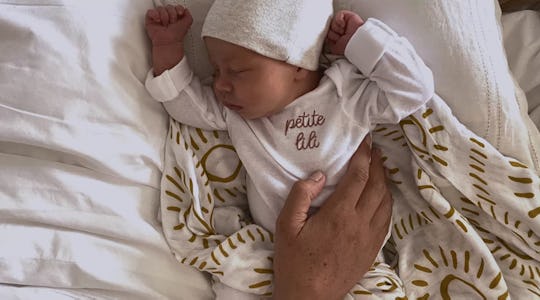 Netflix
Princess Lilibet Has The Sweetest Nickname, Courtesy Of Her Godfather Tyler Perry
"They make beautiful babies, that's all I'll say."
Tyler Perry is perhaps one of Meghan Markle and Prince Harry's greatest supporters. As the couple left the UK to step away from their royal roles in the middle of a pandemic, he offered them a safe space. Offered them his friendship. Without saying a word about it in public. And they have clearly never forgotten the kindness he offered to relative strangers, because they asked him to be godfather to their daughter when she was born in 2021. A role he is taking to heart, as the billionaire movie mogul continues to have such a close relationship with the little royal, he has a sweet nickname for her.
Perry sat down for an interview with Kelly Ripa on her podcast Let's Talk Off Camera recently, and the producer shared that he still spends time with the Sussex family. Ripa asked him, "Are you godfather to their daughter?" to which Perry replied, "I am. To Little Lili, yeah." So he calls 2-year-old Princess Lilibet "Lili" Diana "Little Lili," so lovely. Almost as lovely as the sweet girl herself, according to Perry. "She's so adorable. Oh, she's so beautiful. She's just so beautiful."
He went on to add that Markle and Prince Harry "make beautiful babies — that's all I'll say. They make some beautiful kids. Archie and Lili are beautiful."
Perry has developed a strong friendship with the Sussex family since he first attended their 2018 wedding at St. George's Chapel at Windsor Castle in 2018. After they were married, Perry told Ripa that he sent the couple a note that said "If you ever need anything, I'm here,'" and within a few months Markle, who has been open about her struggles within the confines of the royal family, took him up on that offer. Perry said the former Suits star "just talked to me like I was a therapist and we just had a great conversation."
When the couple eventually left the royal family and moved to Los Angeles, it was Perry who offered them the use of his home and security team. "It is very important for people in this business to have a safe place to land, to have a place where they can trust and talk freely and get advice that's not going to be biased or from somebody who wants something from them," he told Ripa.
Tyler Perry might not have wanted something from Meghan Markle and Prince Harry when he offered to help, but he did gain a goddaughter in the bargain. Little Lili. How lucky.