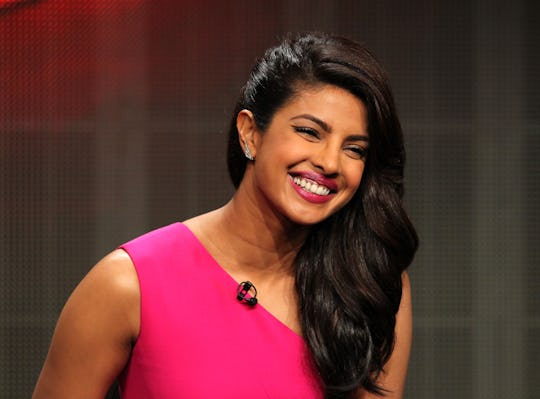 Variety/Penske Media/Getty Images
Priyanka Chopra Posed On The Cover Of Vogue With 1-Year-Old Daughter Malti
Baby's first high fashion moment.
Priyanka Chopra has been enjoying all of her daughter Malti Marie's firsts this past year, and the two of them just celebrated a big one. Baby's first smile, of course. Baby's first bath. Mother and daughter's first Vogue photo shoot. You know, all of those very average firsts we've all celebrated with our babies.
The actress brought 1-year-old daughter Malti, who she shares with husband Nick Jonas, to pose for British Vogue for the magazine's February 2023 issue. Chopra shared a glimpse of the photo session on Instagram, where she is wearing a gorgeous red Ferragamo dress on a red background and cradling Malti in a red dress against her. With her little face away from the camera, of course.
Both Chopra and Jonas have been cautious about sharing photos of their daughter's face since she arrived in the world via surrogate last January. While they have shared photos from Malti's first year, as they did when she joined her parents at her first Diwali back in October, they always add some heart emojis over her face to protect her privacy.
Even with her face protected, Malti is adorable in her first Vogue photo shoot with her mom, which Chopra referred to as "another of our many firsts together..."
The actress has taken the past year off from work to be with her little girl, something she has enjoyed immensely after working for more than two decades. "It's been 20 years of hustling and working at breakneck speed. I've always been like, 'What's the next thing?'" she says in the February issue of British Vogue. "But now I feel I have a centre, a sense of calm, because every decision ends up being about her."
Certainly her decision to bring Malti to a Vogue photo shoot had most of her followers excited. "I mean this is everything," wrote one social media user while another added, "the most famous baby Malti Marie 's first photoshoot cover." Some fans were bothered by the fact that Chopra is covering her daughter's face in the photo, perhaps forgetting that Malti is not their child and her parents will be the ones to make decisions about her privacy.
At the end of the day, Chopra got to enjoy getting glamorous with her baby girl for the cover of British Vogue. That's some impressive work/life balance.