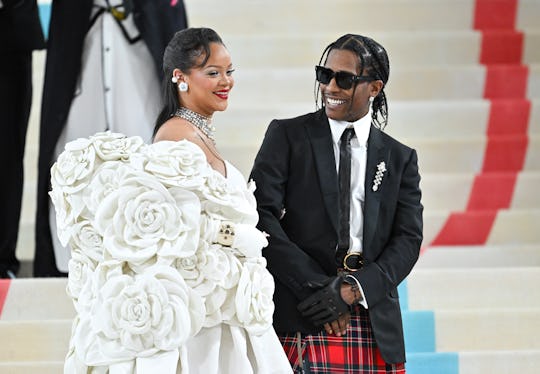 James Devaney/GC Images/Getty Images
Rihanna & A$AP Rocky's Son RZA Is The Smiliest Baby In These Precious New Photos
RZA Athelston is officially 1 year old!
It has been one year since Rihanna and A$AP Rocky became parents for the first time to their baby boy, whose name we now know is RZA Athelston. While the couple tends to be pretty cautious about sharing pictures of their sweet little boy, proud dad A$AP Rocky couldn't let his son's first birthday pass without sharing a bunch of amazing photos for his birthday.
The "Praise The Lord" singer took to Instagram on Sunday to celebrate little RZA and subtly confirm that his son is indeed named after Wu Tang Clan's rapper RZA. Sharing a series of photos with Rihanna and the little boy they share, Rocky captioned the post, "'WU TANG IZ 4 DA CHUREN 🤲' HAPPY 1st BIRTHDAY TO MY 1st BORN. RZA."
The first photo in the post featured little RZA getting some tummy time on a blanket while his mom Rihanna kissed his dad on the cheek. The entire family posed in sunglasses and chic black outfits in the next photo, while the following photo saw them all hamming it up for a mirror selfie. There was a short video of RZA being danced around by Rocky while Rihanna fussed with his socks, and another of him watching his dad shave. One thing every photo had in common? RZA with a big smile on his happy face.
RZA's constant smile was not lost on Rocky's followers, who took to Instagram to leave comments like, "I ain't never seen such a happy kid. it's like he already knows who his parents are," and "He's always smiling I love that so much." Another person compared little RZA to Pebbles from The Flintstones, and it does feel kind of accurate.
The happy little boy's birthday coincidentally falls on Mother's Day this year, the last Mother's Day Rihanna will have as a mom of one. She and Rocky are expecting their second baby later this year, and this second pregnancy has turned out to be totally different from her first. This time around Rihanna is experiencing "No cravings, tons of nausea," as she told Entertainment Tonight at the Met Gala earlier this month. "Everything's different. But I'm enjoying it."
Her pregnancy might be different, but with any luck it will lead to a baby as happy as little RZA.