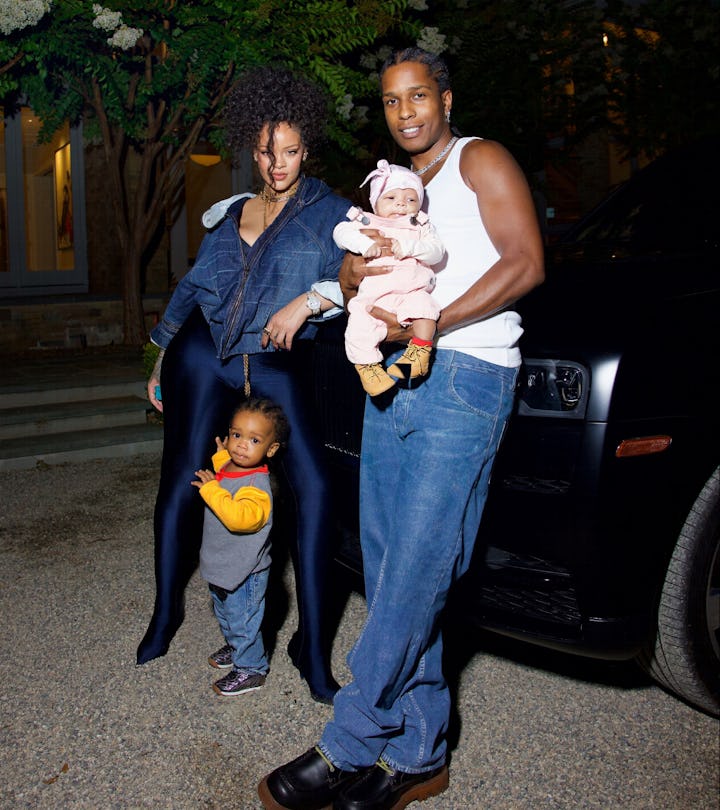 DIGGZY/Shutterstock
Rihanna Knows Pink Ain't Nothing But A Color, Baby
In 2023, some people are still apparently confused over the fact that anyone can wear pink.
Ever since Rihanna's epic pregnancy reveal at the Super Bowl LVII halftime show, we've been excited to "meet" Baby #2. Sure, it wasn't that long ago that we "met" big brother RZA, but let's be honest: be it music, lingerie, makeup, or babies, there's nothing Rihanna is responsible for creating that we don't want to see. But just as Rihanna's non-announcement at the Super Bowl confused some fans ("is she pregnant again or is that just a postpartum belly?"), the parents' first pictures of Riot Rose confused some fans: "Wait, why is Rihanna's baby wearing pink?"
Rihanna and A$AP Rocky's first pictures of the family of four were taken by celebrity photographer Miles Diggs, aka Diggzy, who shared an image from the photo shoot on his Instagram. The photo features Rihanna, A$AP Rocky, RZA, and newborn Riot Rose Mayers making his debut wearing a soft pink ensemble and tiny boots. But despite multiple outlets confirming the birth of a second son in August, TMZ releasing the child's name and gender a few weeks ago, and Riri herself commenting on the post saying "The Mayers Boyz," some fans were apparently confused whether the infant was a boy or a girl. Because apparently, in the year 2023, the idea that a boy can wear pink (or have a feminine middle name) does not compute.
Now, personally, I don't want to see gender roles pushed onto babies. In fact, the only roles I want to see on little ones is leg rolls. (#LegRollsNotGenderRoles) And then I want to pretend to eat those leg rolls. And then I want the baby to laugh. And then I'll laugh. But I digress, probably to avoid the sad fact that so many people expressed confusion at best and derision at worst.
"I'm confused she had another boy or a girl?" wrote one commenter on Diggs' post.
"That's a boy!? 👁️🤨" said another, zhjuzhjing up their statement with some judgmental emojis, just in case we missed their disdain, I suppose.
"After examining the photo," declared one fan. "I come to the conclusion the baby is a beautiful baby girl y'all fool everyone that's y'all do it best controlling the narrative of y'all lives."
Because, apparently, an elaborate conspiracy theory makes way more sense than a boy wearing pink.
Twitter was similarly abuzz with speculation.
"son? I don't remember rihanna ever dressing Rza in pink or with a headbow," tweeted @ellllizabeth_ (who apparently didn't recognize that Riot is in a durag). "Riot has to be a girl."
"They named their son rose and carried him around in pink...you the media said she had a son..." accused @melissamalcolm7. "base on the child's name this is a girl and you still promoting your narrative?" (Yes, we the media are always looking for ways to be nefarious.)
"Idk if Rihanna is trolling. The baby's name is Riot Rose, dressed only in pink. And it's boy? She's winding us all," tweeted @ChuchiiLo. Because, again, a Punk'd situation here makes more sense than a boy in pink.
Twitter user @ke_on_na simply summed it up: "Mannnn Rihanna naming that BOY Riot Rose and dressing him in all pink is bazaar [sic] as f*ck."
Siiiiiigh.
First of all: boys can wear pink, full stop. This isn't difficult and, thankfully, it looks like most folks talking about these pictures on the internet recognize that. Questioning whether he's a boy due to the fact that he's wearing pink is on the same level of absurdity as not recognizing that Clark Kent is Superman because he's wearing glasses. It's a color: there's no law about what colors you have to put on a baby based on sex or gender.
And honestly, even if there were a law, Rihanna would almost certainly break it. In an interview with British Vogue, the Bajan singer-tycoon-mom discussed the sartorial choices she makes for her eldest son, RZA. "I like to dress him in things that don't look like baby clothes. I like to push it. I put him in floral stuff. I put him in hot pink. I love that," she told the magazine earlier this year. "I think that fluidity in fashion is best. I always shop in the men's department, you know."
So, why did Rihanna dress her son in pink? Because she felt like it.