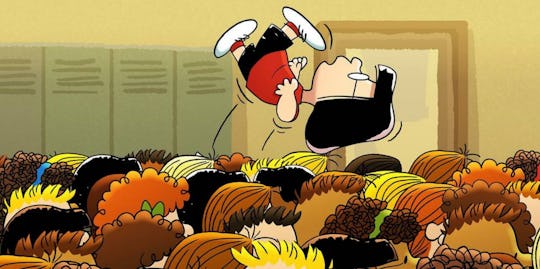 AppleTV
Our Favorite Peanuts Introvert Is (Finally!) Getting Her Own Special
In Snoopy Presents: One-of-a-Kind Marcie, premiering on Aug. 18, Marcie finally gets her time to shine, sir.
Fans of Charlie Brown all know about Peppermint Patty and her seemingly one-sided friendship with Marcie. There's a bit of a trickle-down effect with Peppermint Patty kind of hero-worshipping her pal Chuck, as she calls Charlie Brown, and Marcie following her around and calling her "sir" like a loyal assistant. While over the years, fans have gotten to know Peppermint Patty through Charles M. Schulz's comics and more than 50 television specials based on those comics, we've never really gotten to know Marcie. Until now. A brand new Peanuts special called Snoopy Presents: One-of-a-Kind Marcie finally gives her a moment to shine.
Marcie, long considered a sort of part-time main character who is recognizable for her dark hair and huge glasses and her face that never seems to change expression, is the main character of the new special coming to Apple TV+, and fans get to see the introverted, sweet kid who is caught between being shy and desperately wanting to help out her friends whenever she can.
In Snoopy Presents: One-of-a-Kind Marcie, Marcie tries to help Peppermint Patty out at a golf tournament by being her caddy, offering some thoughtful advice to her along the way. When the two are back at school, Marcie finds herself being nominated for class president, and still continues to focus her energy on helping her friends even though she struggles to share her helpful advice because of her shyness. She eventually finds a way to be helpful and kind without being in the spotlight, a win-win for Marcie.
Apple TV+ will premiere the latest installment in the series of original Peanuts specials, Snoopy Presents: One-of-a-Kind Marcie, on Aug. 18. Marcie feels like a late summer, everyone calming down sort of gal, so this timing feels exactly right.
Snoopy Presents: One-of-a-Kind Marcie is the fifth installment of the Snoopy Presents series, including a New Year's Eve special called Snoopy Presents: For Auld Lang Syne and another background look at a character in Snoopy Presents: Lucy's School. What a lovely way to meet characters who took a back seat sometimes, especially shy, introverted Marcie.