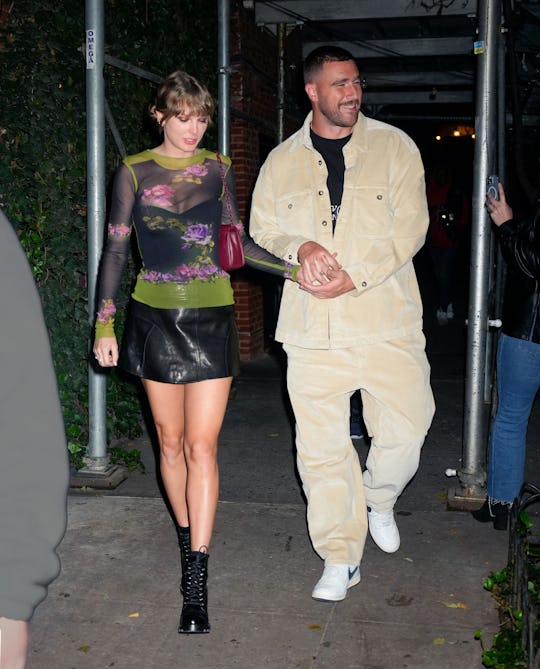 Gotham/GC Images/Getty Images
Travis Kelce Once Referred To Moms As "Breeders" & People Have Thoughts
Before the NFL star began dating Taylor Swift, he said on his podcast that he's "gotta start breeding."
Travis Kelce and Taylor Swift currently appear to be enjoying those fizzy early days of a new relationship. Dinners out together, getting to know each other, all of those first sweet steps that could lead to bigger steps down the road. You know, things like getting serious about each other, maybe living together, maybe having kids. Or as Travis Kelce might refer to it, becoming "breeders." That's right, the Kansas City Chiefs player once said he was looking for a "breeder," not too long before he started dating Swift.
The football player made the interesting comment while talking to his brother, fellow NFL player Jason Kelce, and their mom Donna on their podcast New Heights when the subject of children came up. The brothers were grilling their mom on who she would be rooting for when they faced off in this year's Super Bowl. "You've said in the past to both of us that you root for me because I've given you grandkids," Jason, who shares three daughters with his wife Kylie, said before adding that he suspected she was secretly rooting for his brother. "I've always known that you root for Travis."
For his part, Travis was more concerned with having his own kids, "I gotta start breeding, I gotta start breeding," Travis said while his mom and brother laughed. "Imma find a breeder and I'm gonna get kids so mom can love me again."
Perhaps unsurprisingly, fans reacted to Kelce's use of the word "breeder" to describe having children. "i ain't a swiftie but don't have to be one to be weirded out about travis kelce calling women 'breeders' that ain't it dude," wrote one person. Another said, "Forever grateful that Joe Alwyn kept to himself and is private. It's what makes Travis Kelce's statements from earlier this year about 'finding a breeder' cringe. You are free to say what you want but are not free from the consequences of doing so. Women are not objects."
Others felt it was all meant as a family joke. "Travis Kelce JOKED that he has to start breeding.' Have you seen videos of him with his nieces? He's the fun uncle, they LOVE him. It wasn't a diss on women, it was a sibling diss on his brother who has 3 kids. If he thought of women as breeders, he'd be Nick Cannon," another chimed in. One more said, "That was so clearly a joke. He said it *because* it was ridiculous and he was trying to get a rise out of his mother and brother."
Mere months after admitting he was in the market for a breeder, Kelce started dating Taylor Swift. And a source who claimed to be close to the new couple intimated in an interview with Yahoo! Entertainment that she might not have been averse to the topic. "They're already making plans for the future," the source said. "He and Taylor have even talked about kids. Travis wants them in the next year or so, and Taylor, of course, is all in. He's exactly the guy she's been waiting for!"
Whether or not Swift, who has a reputation as an amazing honorary aunt to her friends' children, is ready to talk having kids with Kelce after a few months of dating, remains to be seen. And whether or not she would be okay with being considered a "breeder" if she did have children with Kelce... well, we sort of assume that might be a private conversation between the two of them. In fact, we sort of hope that Donna Kelce, who has been spending time with Swift, might have called her son out after his breeder comments. Or maybe it really was just a sibling diss, and she rolled her eyes and moved on with her life. Donna Kelce is accustomed to dealing with her two rambunctious sons, after all. Breeder or no.