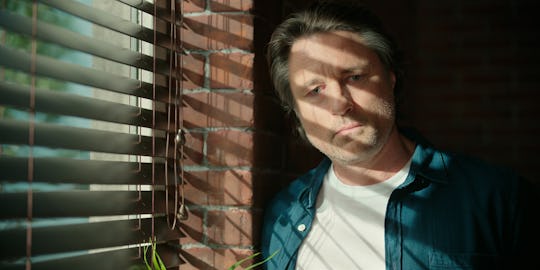 Netflix
Virgin River Fans Think Jack Has Questions About The Paternity Of Charmaine's Twins
"If I'm not the dad of the twins then who is?"
Season 5 of Virgin River is mere weeks away from dropping on Netflix, and the streaming giant is doing an incredible job of trickling out little teaser trailers and hints to keep fans interested. Not that they need any incentive to stay interested, of course, the Virgin River fans are already heavily invested in what's next for Jack and Mel and the rest of the Virgin River townsfolk. so much so that one simple photo of Jack Sheridan (Martin Henderson) was enough to spur a fan theory that has been a question in the minds of viewers for some time now.
Netflix released a new production still from Season 5 of Virgin River, which premieres on Sept. 7, and it's really just a photo of Jack standing there looking pensive beside a window. The blinds aren't even open so we don't know what he's looking at. Virgin River's Instagram account shared the photo with the caption, "What's Jack thinking about?... and go!"
Fans had no problem at all coming up with what Jack might be contemplating. And at least a few people figured it might have a whole lot to do with Charmaine (Lauren Hammersley) and her record-breaking pregnancy that has been going on for three seasons.
When answering the question "What's Jack thinking about," one person responded, "How Char has been pregnant for 3-4 seasons." Another person wrote, "Is Charmaine EVER going to give birth?" while other Virgin River fans wondered if there might be a bit of a conspiracy going on.
"If I'm not the dad of the twins then who is?!" one fan thought Jack might be thinking. Indeed, one more commented, "Who the hell is Charmaine's baby daddy??" while another said, "She really tried to pawn 2 kids on me."
Several more people wondered if Jack was considering this, particularly after he spent several seasons believing he was the father of Charmaine's twins before she revealed [spoiler alert!] at the end of Season 4 that she had lied about her babies' paternity. While she did not reveal who the baby's father might be, fans took to Jack's photo to make their own guesses. Some thought it might be Jack's erstwhile marine buddy Brody (Ben Holligsworth), while others wondered if it could be Mike (Marco Grazzini), another of Jack's marine buddies who is now a police officer. Essentially, these fans figure it has to be someone in the marines, apparently.
One thing we know for sure, Jack is being all deep and thoughtful. Which feels like familiar territory to the brooding bar owner.