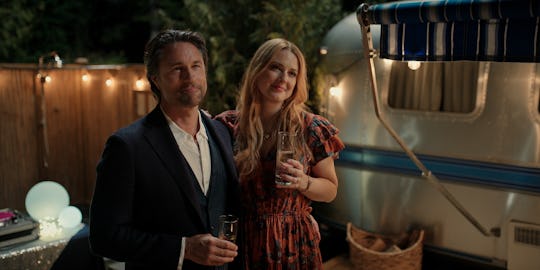 Netflix
Virgin River Fans Desperately Want Jack & Mel To Get Married Already
But don't expect it any time soon.
Season 5 of Virgin River is giving us something we didn't even know we could hope for, two holiday bonus episodes dropping at the end of November. And while expectations are high for these two episodes based purely on previews, can we expect to see Jack and Mel finally get married? Here's what we know so far.
Note: Lots of Virgin River spoilers are ahead.
Jack and Mel are already engaged.
After five seasons of watching Jack (Martin Henderson) and Mel (Alexandra Breckenridge) fall in love on Virgin River, fans are seriously ready for them to tie the knot. Particularly after the couple, who got engaged in the Season 4 finale of Virgin River, had such a tough time recently. Mel suffered a pregnancy loss with their baby during the midst of a wildfire that nearly destroyed the town, Jack found out that pregnant Charmaine's (Lauren Hammersley) twins are not actually his children as he was told, it was all too much.
Fans are ready to see these two get the happy ending they so richly deserve. A happy ending in the form of a beautiful wedding that would essentially be for all of us to enjoy. Will it happen?
Will there be a wedding in the Virgin River holiday episodes?
According to Virgin River showrunner Patrick Sean Smith, fans shouldn't expect a wedding in the holiday episodes of the series, which drop on Netflix on Nov. 30.
"Well, time is a tricky thing in Virgin River," Smith told TV Insider when asked about Jack and Mel's wedding. "I would say, it's always on the horizon. In the holiday episodes, I don't think we get to it as much, but what we do get to introduce is a little of the family dynamics that will eventually someday play out in a wedding context as Mel and Jack are planning their lives together. It also involves bringing their families together, which is always a tricky thing."
Especially tricky since we are expecting to learn who Mel's father might be in the holiday episodes.
Will Jack and Mel ever get married?
Yes, we think so. The showrunners simply want to tease out their relationship for as long as possible, perhaps until Season 6. "Mel and Jack are such an epic couple that you really want to savor things as much as you can," Smith told TV Line. "We don't want things to ever feel like they're stalled, but we also want to enjoy [their engagement] while we can. So we're moving at that pace with all of the things they have ahead of them, anticipating [a wedding] down the road."
How can you watch Virgin River?
If you haven't already devoured the first five seasons of Virgin River, you'll want to stream them on Netflix before the two holiday episodes drop on Nov. 30.