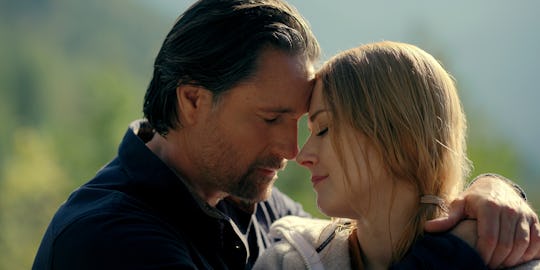 Netflix
Virgin River Fans Are Begging The Writers To Give Jack & Mel Some Happiness In Season 6
Save all that heartbreak and drama for someone else, k?
Now that the writer's strike in Hollywood has come to an end, many shows are getting ready to continue production after a long pause. Including Season 6 of Virgin River on Netflix, where the writers are currently back at work and ready to pull all of those threads from the hugely dramatic fifth season together for us. And those writers needn't worry about figuring out how to satisfy fans of Virgin River because they're letting them know exactly what they want to see.
[Note: Major spoilers ahead for Season 5 of Virgin River.]
Virgin River Season 5 was really tough on Jack and Mel.
Everyone's favorite couple Jack (Martin Henderson) and Mel (Alexandra Breckenridge) had an especially tough time in Season 5 of Virgin River. Mel suffered a pregnancy loss with their baby, and it was incredibly moving to watch the couple go through their disappointment and heartbreak together. Especially considering the fact that Mel had to deal with this miscarriage in the middle of a wildfire that threatened to consume the town. People's homes burned to the ground, there was a whole drug cartel storyline with Brady (Ben Hollingsworth) caught in the middle, Doc (Tim Matheson) was going blind. Generally pretty bleak stuff. So what do people want with the sixth season? Just a little happiness. Please?
Fans want to see some Jack and Mel get some happiness in Virgin River Season 6.
The writers of Virgin River announced their return to work on Instagram last week, sharing a smiling group photo from the writers' room. They were immediately inundated with requests for Season 6.
"More Mel and Jack pls, and not so dark like season 5. Can Mel get pregnant with no issues," wrote one fan.
"Bring back Alex and Martin as leads, bring back the Jack and Mel romance, let them have their own child before adoption or surrogacy," wrote another.
"Where are Jack's beautiful scenes with Mel? I realize that due to the great success of the last season you wanted to add a lot of glamor and the series lost what we love most: the real connection and beauty of relationships. Mel losing the baby was ridiculous. I hope you can return in season 6 with what fans really like most about this series: true and simple human relationships!" another fan commented.
Generally speaking, everyone is really rooting for Jack and Mel to find some well-earned happiness, especially if that happiness comes in the form of a healthy baby. "And let mel get pregnant with a healthy baby!" was the resounding cry on Instagram.
Also, Charmaine needs to give birth to those twins.
Season 5 of Virgin River did finally give us the identity of the father of Charmaine's (Lauren Hammersley) twins, which was great since we all knew it wasn't Jack. It was, in fact, back from the dead Calvin (David Cubitt), who returns to tell Charmaine he wants to know his children in the final episode. But still, fans really just need Charmaine to give birth after four seasons of carrying around those twins.
"Can Char have her babies now??" one fan pleaded with the writers.
"Charmaine has been pregnant for like 10 years and Mel losing her baby…..come on," wrote another.
When will Season 6 of Virgin River premiere?
As the writers have just returned to work after the strike, no premiere date for Season 6 of Virgin River has yet been set. But don't worry, we have five season to watch already on Netflix, and two bonus holiday episodes dropping on Nov. 30 on Netflix, where Mel finds out that her biological father lives in Virgin River. That should be enough to tide us over until the next season arrives.