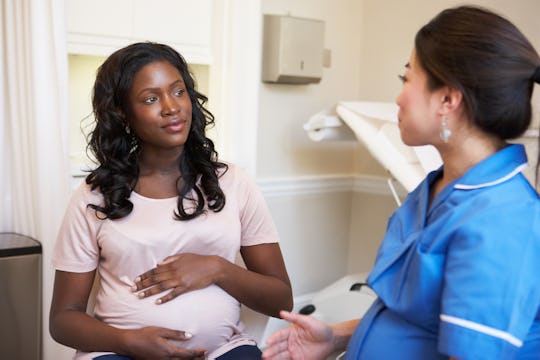 Fotolia
Struggles Moms With High-Risk Pregnancies Endure
Being pregnant is hard no matter how you look at it. You are growing an actual human being inside your body. That's some mad scientist sh*t right there, my friends. However, when you add medical problems to the equation, pregnancy can get intense, stressful, and downright scary. From gestational diabetes to preeclampsia to incompetent cervix to preterm labor; pregnancy complications produce the kind of struggles only a mom with a high-risk pregnancy can understand.
I have a history of incompetent cervix, meaning that my cervix lacks the structural integrity to stay closed past a certain point. Because of this complication, I've had highly medicalized, high-risk pregnancies. When I was pregnant with my now 4-year-old son, I had a cerclage placed (a stitch in my cervix to keep it closed) which had to be monitored every week via ultrasound. A transvaginal ultrasound, for the record. Yep. Every single week, from 17 weeks right up to the end of my pregnancy, a wand was placed inside me to make sure everything was OK with my incompetent cervix. Oh, and having the cerclage placed? Yeah, that's a surgical procedure, complete with anesthesia. In other words, I did not have a particularly pleasant time.
With my 18- month-old son, we decided not to place the cerclage and to go with weekly progesterone injections instead. Unfortunately, insurance wouldn't cover having someone else give the injections and I would've had to pay out of pocket for a full office visit once a week, so I had to give them myself. The needle was huge and the liquid was so thick, I had to exert major force on the plunger to actually get it to come out of the syringe. It was awful and, honestly, scary.
High-risk mamas, y'all are tough and amazing. It's hard but, for better or worse, you're not alone. Know that when you go through every single painstaking struggle, someone else has gone through them, too. You got this. #Solidarity