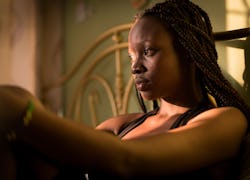 13 Things Someone Who Just Lost A Baby Actually Wants To Hear From You
Jasmin Merdan/Moment/Getty Images
According to someone who's been there.
Experiencing the loss of a baby is one of the worst things that can happen to a parent. You go from planning out an entire future around this tiny little wonder to feeling like the world has been pulled out from under you. When I lost my daughter to premature birth, I thought I would never be OK again. It was wholly unexpected, it was my first pregnancy, and the shock was as strong as the pain. Surviving the loss of my baby has been the single hardest thing I've ever had to do. Even now, nearly four years later, I still mourn, and still have incredibly difficult days, the type that render me unable to get out of bed.
But throughout this dark, sad time, I have been able to take comfort in the words of a few. Close friends and family who were there for me were kind enough to support me during that difficult time, and continue to do so on the days when it turns out that it might never not be entirely a not-difficult time. I've even gained an extensive network of other loss moms who frequently have words of wisdom for mothers who have lost their babies. Many of them had miscarriages. Some experienced preterm labor, like I did, while others had stillbirths, or other complications that resulted in pregnancy and infant loss.
While I don't wish this type of pain on anyone, I know that many out there will inevitably suffer from some similar tragedy. Because of this, I am frequently outspoken about child loss. If you have a friend or family member currently experiencing such a difficult moment, these are some words you can use that they may find comforting: