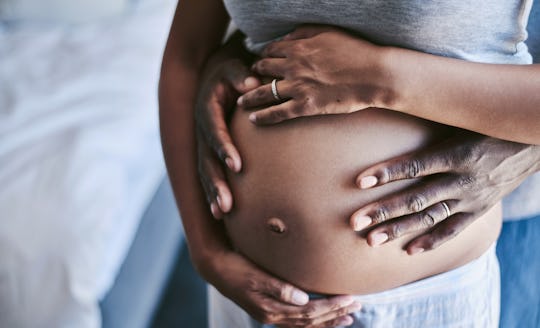 PeopleImages/E+/Getty Images
4 Signs You're Dilating, Which Could Mean It's Almost Baby Time
Even if you've had the most perfect pregnancy up until now, with nary a hint of heartburn, at some point, you're probably going to want to just give birth already. But what are some true signs that you're dilating? If it's your first time, it's tough to know what dilation feels or looks like.
First, you'll need to understand the details of dilation and the circumstances surrounding your cervix. Dilation is the opening of the cervix, per What To Expect, and it can happen anywhere from your ninth month of pregnancy, or even overnight. It's measured in centimeters, starting at one centimeter (which is about the size of a pea) and going all the way up to 10 centimeters (the size of a grapefruit slice).
The cervix is an important player in pregnancy, particularly when it comes to delivery. According to the study, "The mechanical role of the cervix in pregnancy," the cervix goes from being closed during your nine months to protect the fetus from infection and allow it to fully develop to subsequently having to shorten, soften, and dilate in preparation for labor. You might hear your OB/GYN use terms like "ripening" or "thinning" in relation to your cervix, which means that it's getting ready for the big event.
But while you might get super excited thinking that labor has started if your doctor tells you that you've begun dilating during an exam, don't be so quick to head to the hospital. Because if you've ever been sent home after only opening up 1cm dilated, then you know that dilation is really a numbers game. "Early dilation doesn't necessarily correlate with anything, though it can indicate that you won't go too far post-date," Taraneh Shirazian M.D., OB/GYN at NYU and founder of Mommy Matters, tells Romper. You'll need to be 10 cm dilated in order to start pushing, after all.
Your OB/GYN will probably perform a weekly pelvic exam starting at around 36 weeks of pregnancy, (via The Bump). So aside from getting updates from your doctor about your stage of dilation, you can also check out some of the signs highlighted below that may let you know you're dilating.
This article was originally published on