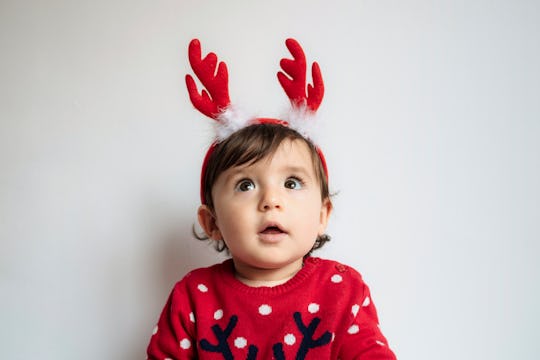 Westend61/Getty Images
6 Bizarre Superstitions About Christmas Babies
You seriously can't make this stuff up.
As far as holiday birthdays go, Christmas babies have to take the cake. Sure, Fourth of July babies get fireworks each trip around the sun. Halloween babies get an epic costume party, and Valentine's babies will surely never feel a lack of love when they blow out the candles. But Christmas is next level: double the gifts, double the fun. Sure, Christmas babies have to compete with the Prince of Peace, but what's that when you know you get to eat gingerbread and all the birthday cake you want every Dec. 25? Plus, old Christmas Day superstitions from around the world say these holiday babies have special blessings.
That's right, superstitions suggest that babies born on Christmas Day come with some bonus powers. No, not like Xena Warrior Princess powers (they can't use telekinesis or outwit their opponents with magic). Instead, their special attributes have to do more with their birth being a good omen and a clue that their future is bright. One need only consider a few Christmas babies to see how this might be true. Think: Jimmy Buffet, Annie Lennox, and Isaac Newton. If their lives are any indication, claiming the 25th of December as your b-day isn't too bad at all. Then again, folklore is a fickle thing and bound to have contrarian opinions. What will you believe? There are plenty of fascinating beliefs and old wives' tales about Christmas Day babies for you to decide yourself.
What sign is December 25?
Babies born on Christmas Day are Capricorns, which is represented by the goat. "Those born under this sign are naturally well-mannered, good-natured, and highly disciplined," Karen Comen, life coach and lead astrologer at ZodiacSign.com, explains. "But Capricorns can also be stingy know-it-alls and develop a 'my way or the highway' life philosophy."
In Western astrology, December is considered the season of prosperity and success, according to Comen, so a Christmas baby is supposedly more likely to be quite career-driven. "Capricorns are infamous for their driven mentality towards work," Comen says. "So the myth in question is that babies born on Christmas Day already have their career paths set up."
With this in mind, what does it mean to be born on Christmas Day, specifically?
Whether or not you believe any of these seasonal superstitions, there's one undeniable fact: Having a healthy December 25 baby is always a happy gift. (But it can't hurt to keep the garlic handy, just in case.)
Sources:
Karen Comen, life coach and lead astrologer at ZodiacSign.com
Brian Earl, host of popular podcast Christmas Past and the author of the new book Christmas Past: The Fascinating Stories Behind Our Favorite Holiday's Traditions
This article was originally published on