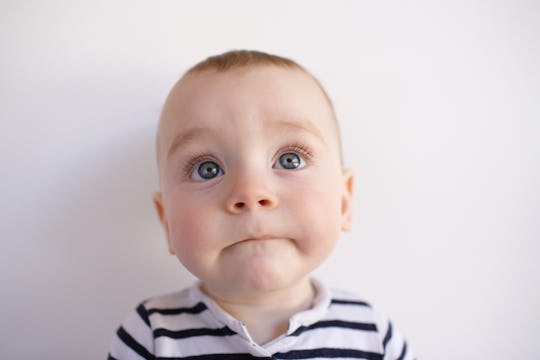 Darren Robb, Getty images
8 Things To Know (Good & Bad) If You're Raising A Capricorn Baby
They're surprisingly practical.
As the tenth sign of the zodiac and with Saturn as its ruling planet, Capricorn babies are truly a bundle of joy and passion for so many reasons. Although you may think you know everything about the sign, there are a few things to know about Capricorn babies that will help you navigate the waters as a parent of this earth sign.
If your little one was born between December 22 and January 19, then you've got a stubborn, smart, and confident yet sensitive Capricorn on your hands. New babies always come with a different set of struggles and joys. As much as we wish for it, there's no handbook for raising each individual child. But it never hurts to know some of the major traits behind a baby's zodiac sign, considering they can often help you make some sense of behaviors that might not be familiar to you.
If you want to know the best way to soothe your baby or what type of toddler they'll soon be, there are some tried-and-true tendencies for Capricorns. It's pretty astonishing how well you can pinpoint some of your baby's expected traits just by identifying them by their sign. So if you're on the hunt for a few of the major things you can expect from your Capricorn baby, check out these interesting and unique attributes.
With any luck, your Capricon baby has the traits and talents for a happy and successful life. One thing's for sure, it'll be a joy to watch them grow.
This article was originally published on