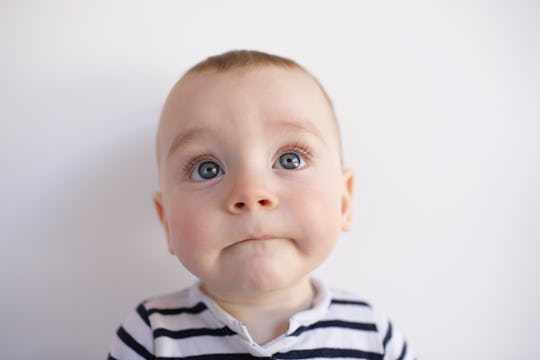 Darren Robb, Getty images
8 Things To Know If You're Raising A Capricorn Baby
As the tenth sign of the zodiac and with Saturn as its ruling planet, Capricorn babies are truly a bundle of joy and passion for so many reasons. If you're not familiar with all the traits associated with this earth sign, now's a good time to brush up: maybe it will give you some insight in how to parent your Capricorn baby (and you may even be inspired to pick a Capricorn baby name, if your little Cap is still on the way).
No child comes with a handbook, but if your little one was born between December 22 and January 19, then chances are you've got a stubborn, smart, and sensitive Capricorn on your hands. Learning about your Capricorn kid and the characteristics they're likely to develop can help you connect with and support them best.
In general, Capricorns are hard workers who are confident yet humble, practical, and loyal. As earth signs, Capricorn kids may be prone to stubbornness (as if all kids aren't, but hey) and honesty (the no filter life can be funny, but also embarrassing when they roast a stranger in public). And while, some, all, or none of these things may end up being true about your Capricorn baby, learning about their potential traits is still pretty fun.
With any luck, your Capricorn baby has all the traits and talents they'll need to lead a happy and successful life. One thing's for sure, it'll be a joy to watch them grow.
Source interviewed:
Georgia Marcantoni, astrologer
Dana DeFranco, astrologer
Stephanie Gailing, astrologer and author of The Astrological Self-Care Journal
This article was originally published on